weil ichs gerade wieder gebraucht habe…hier mal eine Anleitung + Link wie man die Windows XP Skin Verwaltung dazu bringt auch unsignierte Themes zu benutzen: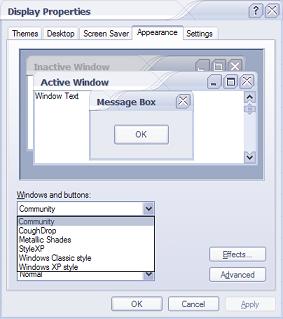 "…But I didn't like to have to pay for something that really should have been in Windows XP itself. It turns out, there exist ways to patch Windows XP such that you can use these custom-made themes. The easiest way is using PatchXP – I've tried it and it works on my Windows XP Professional Edition with SP1. Another way, which is slightly more of a hassle, is via Multi-Patcher – this is more likely to work, since it's more updated than PatchXP. Have fun. This should tide you over until you make enough money to get a Mac, or have enough energy to customize KDE to the max."
PS: Ich selbst kann den Multi-Patcher empfehlen. Der hat bei meinem Windows problemlos funktioniert.
Quelle: http://blog.codefront.net/archives/2003/11/18/patch_uxthemedll_to_really_skin_winxp.php