endlich mal ne gut aussehende Multi-Monitor Lösung die ohne lästigen und störenden Rand auskommt.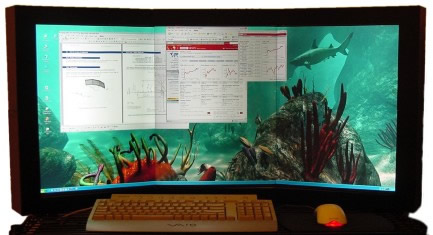 Sieht wirklich brauchbar aus.
"Seamless Display's Horizon 320 represents the very latest in high resolution display technology. This offers a 40-inch viewing area with nearly 6 million pixels. This resolution is many times that of a conventional Plasma screen or the latest large area LCD screen. This unit features three 20 inch panels angled at 25 degrees for increased usability."
Nachtrag: Nach nochmaligem Betrachten musste ich schon schmunzeln…man beachte:











die Taskbar zeigt kein laufendes Programm – woher kommen die Fenster ?






beim "Flugsimulator"…bei allen anderen auch… sieht man Icons auf dem Desktop. Die Killeranwendungen werden doch nicht etwa nur Hintergrundbilder sein ?
naja 😉 aber sonst ganz gute Idee 😉 Hoffen wir das die ganze Angelegenheit auch wirklich existiert und nicht nur ein Fake is…
Quelle: http://www.seamlessdisplay.com/products_3x1.htm