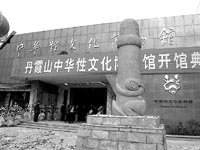 "A sexuality museum opened to the public recently in Danxia Mountain in Shaoguan City of south China's Guangdong Province.
The museum, covering 2,400 square meters, is divided into six exhibition areas under twelve themes, including "Sex in Waters and Mountains", "Sex in Phallism", "Sex in Chinese Characters" and "Sex and Literature".
The sexuality museum, believed to be the largest in the country, was established with an investment of 15 million yuan from Humen Economic and Trade School in Dongguan City.
Danxia Mountain is well known for its special red physiognomy and called "a naked park" for its penis-like big stone, vagina-like cave, rocks shaped like breasts and naked "sleeping beauty".
On February 13 this year, the mountain was approved by UNESCO to be included on the first list of 28 world geoparks.
The museum is a perfect integration of sexual culture and tourism, said the park's head. The museum is open only to adults."
Quelle: Medienfloh @ Shenzhen Daily March 14, 2004