I thought about doing this just in german language – but as far as i can see no german developer is involved in any MTP or related project. – Thats why iam asking everyone that is interested in developing such a free "MTP over IP" Implementation (Library and Applications) to contact me (via comment in this weblog). So there will be more english articles about MTP and Windows Mobile – but until this i´ll switch back to german:
MTP over IP – jaaa, das brauchen wir alle… nagut, vielleicht brauchts der eine oder die andere nicht – aber ich erklärs mal 😉
Wer eine Digitalkamera besitzt kopiert sicherlich ab und an die Daten auch einmal auf den PC. – Und neben dem bekannten "Massenspeicher" den so eine Digitalkamera emuliert, gibt es noch ein Sync-Protokoll – bei Digitalkameras "PTP" genannt – PictureTransferProtocol.
MTP ist eine Erweiterung dieses Protokolls – um quasi-beliebige Daten – daher der Name MediaTransferProtocol. Das Protokoll wurde hauptsächlich für mobile Multimedia-Player entwickelt. Es soll das abrufen und aufspielen von Daten erleichtern – mit einer ganzen Menge lustiger Gimmicks.
MTP hat nun die Erweiterung um "IP" erfahren – leider muss man sich Spezifikationen und Papers zu Implementierungen noch sehr mühsam zusammensuchen – deshalb ein bisschen Spielerei von mir…sofern ich Zeit finde werde ich eine eigene MTP Implementierung vorantreiben.

Meine Implementierung wird vorerst sicherlich nicht das "playsforsure" Logo erhalten 😉 – Macht aber nichts. – Das Hauptaugenmerk meiner Implementierung ist darauf gelegt, dass später ein gewöhnlicher Pocket PC in ein "MTP over IP Device" verwandelt werden kann – sodass man ihn über das Netzwerk und per Windows Media Player befüllen kann…momentan sieht das nämlich noch so aus: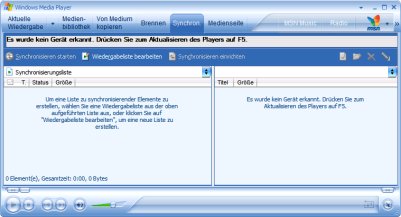 Und da wo noch nichts steht, soll einmal was stehen… vollautomatisch und ohne Konfiguration…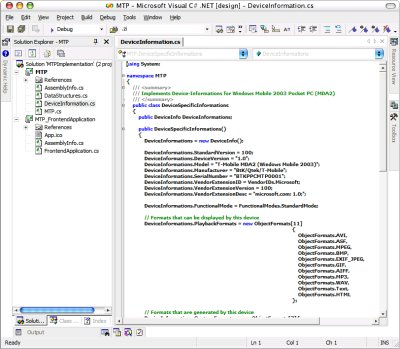 Das Projekt wird unter C# und Visual Studio entwickelt – es ist jedoch möglich mit nahezu jeder beliebigen Programmiersprache mitzuprogrammieren – wenn also jemand Interesse hat, dann immer ran und bei mir melden….(Kommentar schreiben!!) – ich kann dann auch noch weitere Dokumente rund um MTP/PTP zur Verfügung stellen.
Aktueller Sourcecode: MTPImplementation-03-01-05.zip (68,76 KB)