Kollege Heil empfiehlt:
"RSS Popper is an RSS/ATOM/RDF news aggregator that delivers news to Outlook. It allows the leveraging of Outlook powerful functionality for reading news feeds."
Soebene habe ich die Version 0.19 installiert. Integriert sich direkt in die Outlook Ordner. Das Hinzufügen weiterer Blogs geschiht über ein Icon in der Taskbar.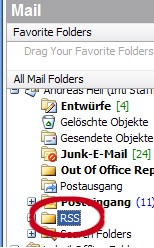 Leider ist die aktuelle Version noch zu "buggy" um im Produktivbetrieb einzusetzen. Das Problem, dass eigentlich alle Feed-Reader extrem langsam sind, scheint auf den ersten Eindruck nicht existent zu sein.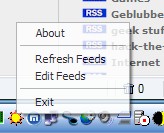 Runtime-Fehler treten noch sehr häufig auf – so jeden zweiten bis dritten Mausklick. Wenn die Entwickler das noch in den Griff bekommt, könnte der RSS Popper zu einer echten Alternative werden, gerade in Kombination mit Mail2Weblog tun sich da wahre Möglichkeiten imInstant-Blogging auf… Ab der kommenden Version werde ich das auch ernsthaft testen!
Quelle 1: http://rsspopper.blogspot.com/2004/10/home.html
Quelle 2: http://www.golem.de/0501/35687.html
Quelle 3: Aheil.de