There's this neat little article called "Seamless Windows with Microsoft Terminal Services…and without ICA".
Actually there's nothing great about that subject. The solution is just some sort of "hack" to get a seamless-window like functionality "for free"…
But then it happened:

66.165.176.60 - - [24/Aug/2005:23:01:17 +0200] "POST /CommentView.aspx?g...

And this IP made the following comment:
"Seamless Windows are a Patented technology by Citrix." (Anon)
Nothing more and nothing less…So NAMENLOS came up with the idea that I should take a look who "Anon" might be… he bet that it's a guy from citrix… and as if he knew it very interesting things came up when I resolved the IP: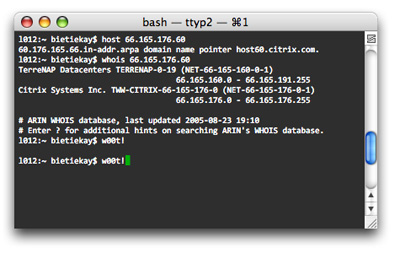 So Citrix? What's this all about? Why don't you just try to argument and talk instead of making "anonymous" comments in my weblog?
Source 1: Seamless WIndows with MSTS…and without ICA
Source 2: NAMENLOS