The warfare has begun! This whole campaign will be in german – so english readers please ignore everything with NYBLOG in the article name (in fact even ignore everything regarding NYBLOG in the rest of the internet as well)

NYBLOG is teh Suck!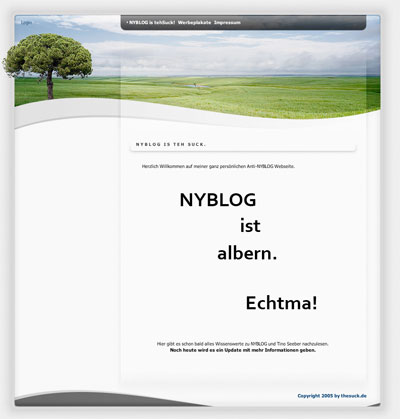 klicken um zu thesuck.de zu gelangen.
Jaja ich weiss, die Seite is noch furchtbar leer – aber Podcast/Video Podcast, Artikel aller Art und Berichterstattung von der Front (embedded journalists können sich über
embeddingU@schrankmonster.de
anmelden) brauchen eben ein wenig um zu entstehen. Es ist ja auch nicht so als hätte der Feind überhaupt schonmal reagiert. Obwohl. Naja schon. Aber nich öffentlich.