The adventure started with the the fact that I had to phone SIXT to get the car reservation done…obviously my travel office wasn't able to get this done within 5 business days… But I finally got the reservation done and arrived at 0700 in Erfurt to grab the car. And … the worst case: a Volkswagen Golf (2.0 TDI)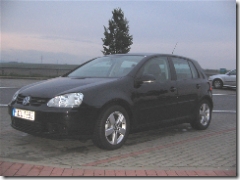 The trip to Munich normally takes me 3,5 hours – this day it took me more than 7 hours. Congestion is the word of choice here. Damn was that a bad trip. And back home it took nearly as long. I got into almost every congestion that was reported by the radio/TMC.
The fact that I was on the road for more than 13 hours and that the meeting took 1,5 hours… the next time I'll be flying… Take-Off at 0700, Meeting at 0900, Take-Off at 1100 and back home for dinner.
Oh…to say something good about the Volkswagen: It wasn't too heavy and the 2 liter 4 cylinder TDI was quite lively. The rest of the car is just extremly bad. The whole thing is badly build. Everything queeks and rattles all the time whilst driving. The gearbox is okay, but the clutch…. The suspension was the worst I've seen on a car since the plate spring. Every once in a while a bump showed up the car instantly started to nod. … Oh I could talk for hours. This car needs a better build quality and it surely needs more personality. The Golf is just a pricey bad car, period. Here's some math:
VW Golf 2.0 TDI: € 21.873,00
Honda Civic 2,2i-TDCi: € 21.430,00
Ford Focus 2.0-TDCi: € 22.290,00
I would rather drive the Civic than the Golf…