No one would have thought that the teeth bleaching overlords are already among us.
I was watching TV when this showed up:
What's this, you're wondering. But wonder no more: It's a teeth bleaching device on the one hand. And a adult torturing device on the other. You don't just look completely moronic with this thing, you also get a manic grinning concreted into your face for everyone to see.
The TV shopping blokes are even suggesting you should give it to your neighbours kids (you don't have any, have you?) and let them feel the pain. And well, it's just 49,95…that's cheap, compared to the money you have to pay for your cable tv, which is almost as painful…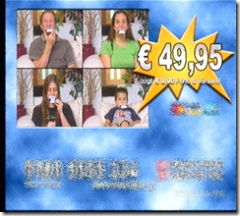 happy bleached kids…yeah!
Back to business: WTF! This was one of the weirdest TV evenings I ever had. I watched an american tv show called "Dirty Jobs" where some guy does quite strange jobs. In fact: When you live in a more modern country like, let's say… Germany, where we (thankfully were) stopped making war on everyone else in 1945 – well – when you live in such a country, you are really really surprised what a big part of the states is third world territory… And then this: teeth bleaching the hard way… TV is getting stranger and stranger everyday. There are a lot good things coming over the big sea from america…but please; no more american tv shows…
P.S.: sorry for the picture quality…it's just a bad analog cable tv…