Ever been on a film festival? Maybe, but ever been on a film festival with one of your movies getting its "world premiere" there?
So happened this thursday in Kassel on the "24. Kasseler Dokumentarfilm- und Videofest".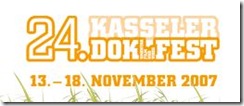 In the section "A38 – Produktionsstipendium Kassel-Halle", one of 4 competitions, the film "Die Auschwitz-Dialoge" was screened at 3 p.m. in the Filmladen, a small downtown cinema. After the screening a discussion with the audience followed.
Back in 2004 I was a member of a film crew in Poland, where we made a documentation about the town Oscwiecim and its struggle in the shadow of the KZ.
Additional information about the movie.
The old article about the filming in Poland on Schrankmonster.
The competition is still running until sunday, so stay tuned for the results.
Jens Heymann