So Mr. Bond got a new look: raw, edgy, down to earth – not the larger than life, sci-fi, luxury man anymore. At least for a while.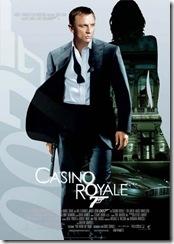 Let's compare what we got…
– Bond only needs marginal things like a telefon to do his job (albeit it's a Sony).

– He handles the girls in order now, not various at a time.

– Great humor, even better than the good old Roger-Moore-Bond.

– Bond fights off realistic enemies, no more global rulers with exorbitant ressources.

– Texas Hold'em as the worlds current most popular card game replaces those abstruse poker games, there the hero principally wins with a big bluff and not with fundamental playing skills.
… and what we got rid of (and might miss)
– Daniel Craig misses the elegance of his predecessor and might be a little bit chawy.

– Clumsy CGI that hardly whitewashes bad writing ideas.

– Those Bond-toys always implicated some fun.

– The first time ever you might feel estranged watching Bond knocking up some girls.

– The smooth difference between shaked and stirred.
Overall a good and entertaining movie, despite that strange cliffhanger ending. Again it's the franchising. So there is no great showdown. The Venice-scenes clearly depict the next Bond movie, so you might walk away from this a bit confused.
Jens Heymann