Oh boy – what a movie this has been: A soldier takes out an Al-Queida-camp, returns to his home via IranAir and begins his new civilized life – until, yes of course, some bad guys (coincidently) capture his wife. Now he is on the mission again. Following up are big explosions, masses of bullets and bodies of pure muscles.
That's the world of "The marine".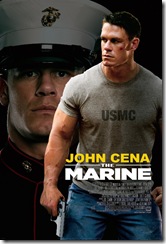 In the manner of typical 80's action flicks (Schwarzenegger and co.) the plot combines various mass destructions, "funny" one-liners and the lack of sense or talent. John Cena, a wrestler, doesn't even get close to his obvious models. And Robert Patrick as villain – so there are good movies, and there are bad ones, too. The role of the wife has no real purpose, save the showing of some flesh and being helpless (but nevertheless sexy).
The last thing you should ask for in this type of movie is logic – some examples:
– They keep firing a thousand bullets on the car and it doesn't slow down.

– Neither they hit the driver (character shield I guess…).

– And while they are firing, the driver protects himself with a flak jacket against direct strafing.

– Which he is holding up with his one hand – the other one drives.

– The people continually slap each other, but no one carries any visible damages.

– The hero is simply indestructible – not with a fire extinguisher in his face or a sledgehammer on his body.

– Even a gigantic wall of flames cannot burn a single hair from the hero's head.
All in all, this film is extremely(!) dumb, but it can work for you if you are able to level down your requirements for being entertained under the movie's threshold. Otherwise you'll know what this "thinking can be stressful"-thing means.
Jens Heymann