Blik just announced that they as of now offer official Nintendo game themed wall decals. I was sold with the first picture I saw of it – I know it's a bit pricey but hey – it sure looks great.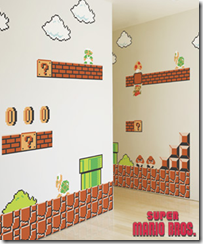 Actually they have more than this Super Mario Bros. 1 theme – they even got the "New Super Mario Bros." theme which is more of a 2.5d than 3d version of the brothers.
"In late 1985, Super Mario Bros., created by the highly revered Shigeru Miyamoto, came to the Nintendo Entertainment System (NES) making a splash by ending the two year slump of video game sales in the US. As of 2008, it is the highest selling video game of all time – 40 million copies to date. Its theme music is recognized by gamers and non-gamers alike.
Made with blik Re-Stik™, these movable and reusable decals are based on the same 8-bit graphics from the original Super Mario Bros. game. This is an official Nintendo licensed product."
Did I mention that it has the official Nintendo seal?… Yeah I did.
Source: http://www.whatisblik.com