After the last update and the fact that I am locked into iTunes (using it for more than 5 years…having rated almost 70% of my huge library…) I decided to buy an iPod at the beginning of this year. Sadly there was only the big and heavy iPod classic that looked promising since the touch was way to expensive.
I thought about things like: Would I need my whole library or would it suffice to have 8/16/32 GB of it? Do I want to have additional applications or just a music player?
After the last update several things came together to a conclusion:
There's not a 160 GB iPod anymore. Since my library is almost that I wouldn't be able to put my library on a 120 GB classic.
The touch is cheaper now
mostly I am listening to podcasts, which I do need to by in sync all the time, that means: remaining playtime sync and syncing without manual work
Since my wife doesn't like the look of the new nano we decided to get the 16 GB Touch.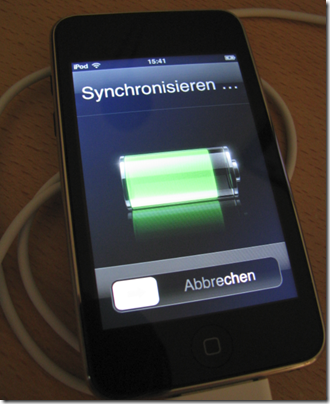 It was delivered today and I am hugely impressed with it so far. It's what I wanted and the way I wanted it. The feature of having my podcasts and audiobooks start/stop positions synced is just fantastic (listening to the first 20 minutes on the go and the rest at home is now possible because the position where I stopped listening on the iPod is synced to the iTunes).
Did I mention that we took the engraving option?