Once upon a time in last.fm a user named DJMorgoth added me to his friends list. And today I had the time to take a look at his work. – And boy that is great stuff!
There's a Mash-Up Party each month in Berlin presented by DJ Morgoth. Obviously a Mash-Up is a song made out of more than one other song. The Artist blends them together to create a unique new one normally sounding great 🙂
Here is the current schedule of these parties: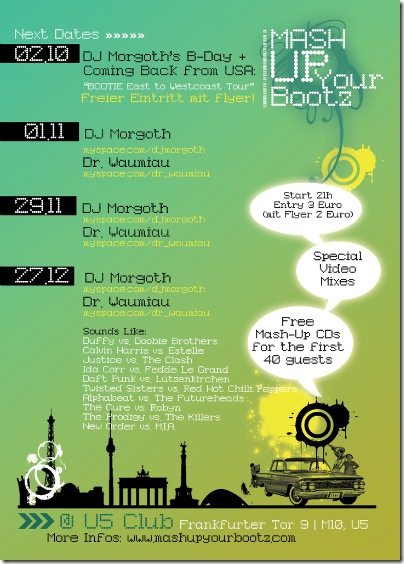 If you cannot attend you're not lost: You can download all the samplers and tracks at the mashup-your-bootz blog.
It's just great music – thanks to the artists!
Source 1: http://myspace.com/djmorgoth
Source 2: http://www.mashupyourbootz.com/
Source 3: http://mashupyourbootz.blogspot.com/
Source 4: best of bootie article on schrankmonster