Okay – the title of this article is a bit, well… too much. It's not going to make everyone stupid. What OS X is doing: It creates stereotypes. Like this one: Everyone with a Mac seems to automagically think he or she is a design-web-hip-artist of some sort.
There are great artists that do great things with a Mac – don't get me wrong. As a matter of fact many great artist have switched and stayed on the white-sometimes-black (for an extra charge) side of the apple.
What I want to say is that: Making "doing things" look simple doesn't always cut it. Of course you can get it done in seconds on a Mac – but "the real stuff" takes as long and as much of knowledge as on every other platform. You just have to know things – that you're not told. Things that are hidden from you for the sake of usability. Things every nerdy-Macintosh-Fanboy just knows and which every other normal guy does not know.
The cause I am writing about this is a site of a very very great band called "Amplifico". I visited their site and found that they are offering their EP for free download. I clicked on the link. Nothing happened. Maybe you can guess why nothing happened: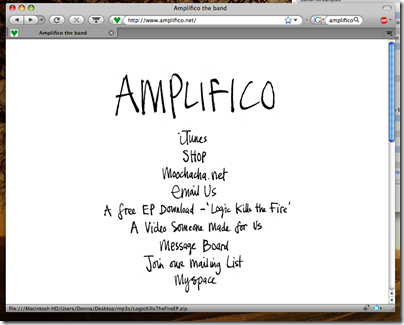 It can look as simple as it does on a Mac to make a website. But in fact it isn't. Thank god for OS X! It's wonders of usability and the feel every application has are the things I really like about it. I don't like about it that so many things think they are something they are not just by using it. I don't like that so many misinterpretations of the User Interface are possible – giving people the sense of "having everything in control" when they actually don't.