If you want to completely destroy your productivity for today, just go ahead and visit this great Mash-Up Charts website.
"A mashup, bootleg or blend (also mash up and mash-up) is a song or composition created by blending two or more songs, usually by overlaying the vocal track of one song seamlessly over the music track of another.
In full swing at the end of the 20th century, mashups have been described positively as "ultimate post-modern pop song[s]" or "'culture jamming in its purest form'" They have also been described negatively as "the logical extension of the sampling fever of the '80s taken to its dumbest extreme". Due to the questionable legal status of mash ups and little chance of profits "there's a real punk rock attitude attached to the movement"." (Source)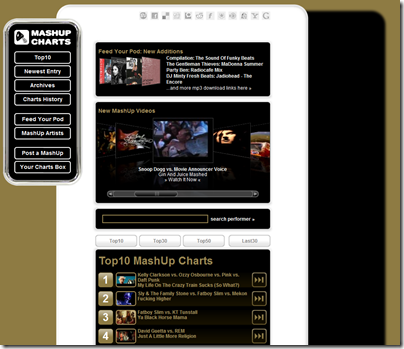 Oh… by the way: This is not the first time I am writing about Mash-Ups… be sure to have a look here and here.
Source 1: http://www.mashup-charts.com/
Source 2: http://en.wikipedia.org/wiki/Mashup_%28music%29