Archive for category Games
Back in 2006 I wrote about a new technology which the also new company Geomerics was demoeing.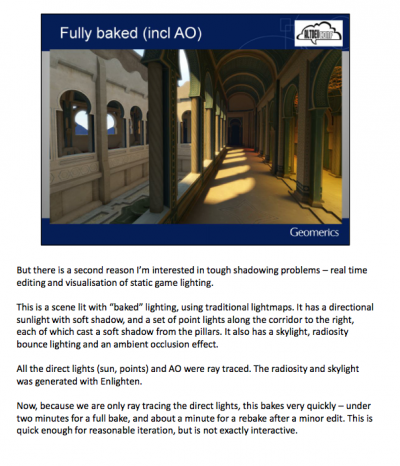 Back in 2006 everything was just a demo. Now it seems that Geomerics found some very well known customers and without noticing a lot of the current generation games graphics beauty comes from the capabilities real time radiosity lighting is adding to the graphics.
"Geomerics delivers cutting-edge graphics technology to customers in the games and entertainment industries. Geomerics' Enlighten technology is behind the lighting in best-selling titles including Battlefield 3, Need for Speed: The Run, Eve Online and Quantum Conundrum. Enlighten has been licensed by many of the top developers in the industry, including EA DICE, EA Bioware, THQ, Take 2 and Square Enix." (Source)
There even is a more updated version of the demo video:
Source 1: real time radiosity lighting article from 2006
Source 2: Geomerics Presentations
Source 3: More Geomerics Media