Archive for category Music
Am Dienstag Abend war es endlich soweit: Nachdem ich bereits im Juni vergangenen Jahres meine Karte gekauft hatte, durfte ich heute meine 58,25€ etwa fünfzig Meter vor mir singen, tanzen und wild herumhopsen sehen.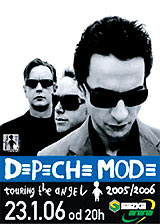 Die Vorüberlegungen begannen schon am Tag: Früh losfahren, dann lange warten und vorne stehen, oder später losfahren, weniger warten und weiter hinten stehen? Ich entschied mich für letzteres und sortierte in der Zeit meine Kontoauszüge.
Kurz nach 1800 Uhr ging es los. Aber nicht lang. Irgendein Idiot musste auf der A71 einen Unfall bauen. In dem folgenden Stau steckte ich ungeduldige und elendig kalte zwei Stunden. Jetzt musste ich doch warten, nur eben anders. Auch die Vorband bleibt mir erspart. Gegen 2000 Uhr läuft der Verkehr wieder.
Auf dem (natürlich schon) vollen ega-Parkplatz das beliebte Spiel: Ich oder der andere Autofahrer? Wer findet schneller einen Parkplatz…
2045 Uhr angekommen in der Messehalle 1. Auf dem Weg dorthin habe ich noch 20€ gefunden – damit ist ein Drittel des Konzertes refinanziert.
Zehn nach neun geht das Konzert los. Im Gegensatz zur recht neuzeitlichen Exciter-Setliste werden auf dieser Tour wieder eine Reihe von Songs von vor 1986 gespielt. Vor mir steht ein Typ, der das Konzert mit einem MP3-Rekorder aufzeichnet, jedenfalls bis zur vierten Zugabe (Der hätte sich mal besser vorher informiert, wie viele Songs gespielt werden…).
01 – Intro
02 – A Pain That I'm Used To
03 – John The Revelator
04 – A Question Of Time
05 – Policy Of Truth
06 – Precious
07 – Walking In My Shoes
08 – Suffer Well
09 – Damaged People
10 – Home
11 – I Want It All
12 – The Sinner In Me
13 – I Feel You
14 – Behind The Wheel
15 – World In My Eyes
16 – Personal Jesus
17 – Enjoy The Silence
18 – Somebody
19 – Just Can't Get Enough
20 – Everything Counts
21 – Never Let Me Down Again
22 – Goodnight Lovers
Von der Exciter-Tour haben nur ganze 5 Songs überlebt. Bei Just can't get enough lief gegen Ende irgendwas mit dem Keyboard schief.
Eine Sache geht mir beim Zuschauen dauernd durch den Kopf: Warum gehen kleine Menschen eigentlich zu Konzerten?
Um 2300 Uhr ist alles vorbei. Zumindest das Konzert. Denn der Abend geht noch etwas länger, denn allein für das Stück zur Autobahn brauche ich eine halbe Stunde. Und jeder, der Erfurt kennt, weiß, dass man beim Messegelände eigentlich schon fast außerhalb der Stadt ist. Nach dem Konzert werden übrigens auch alle Merchandising-Artikel billiger verkauft. Leider habe ich irgendwo meine Eintrittskarte verloren, aber die zwanzig Euro sind ja auch nicht schlecht.
"See you next tour!"
Jens Heymann