Archive for category Apple
Immermal wieder bekomme ich von Apple Usern erzählt, wie toll doch Rendezvous ist und das es sowas cooles für Windows natürlich nicht gibt: Falsch !. Das gibts und sogar komplett mit SDK.
Aber erstmal für die Interessierten, die nicht wissen was Rendezvous eigentlich ist:
"Rendezvous enables automatic discovery of computers, devices, and services on IP networks. Also known as zero-configuration networking,"
Bei Rendezvous handelt es sich also um eine Technologie die es ermöglicht gänzlich ohne Konfiguration Dienste und Daten in einem Netz zu nutzen. Also Beispiel: ich starte mein iTunes und mein Kollege startet sein iTunes. Und wenn wir im "Gemeinsam nutzen" Dialog eben jenes Feature aktiviert haben, dann sehen sich unsere iTunes automatisch und können die Musiktitel des jeweils anderen Rechners (sofern freigegeben) abspielen. Übers Netzwerk eben.
Besonders interessant: Das ganze lässt sich mittlerweile auch prima mit C# anprogrammieren. Wenn das mal kein Grund ist sich damit zu beschäftigen… einen kleinen Haken hat die Sache: da Rendezvous zum grössten Teil auf Multicasting basiert funktioniert die ganze Angelegenheit manchmal nicht so wirklich…z.B. in gewissen grossen Netzen in denen zwischen einzelnen Subnetzen kein Multicasting-Traffic geroutet wird…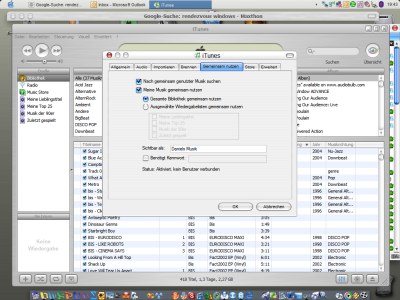 "Rendezvous for Windows Technology Preview 2 is now available. This latest release adds support for Windows 2003 and Windows XP service pack 2. Additionally, the included Rendezvous SDK now installs sample code for C, C#, and Java. As with the previous release, Rendezvous for Windows allows Windows machines to discover advertised HTTP and FTP servers using Internet Explorer. Since Apple first launched Rendezvous in 2002, every major maker of network printers has adopted Rendezvous. With the included Rendezvous Printer Wizard, Windows users can also experience the benefits of being able to effortlessly discover and print to these Rendezvous printers. The Rendezvous Printer Wizard can also be used to print to USB shared printers connected to the AirPort Extreme and AirPort Express Base Stations."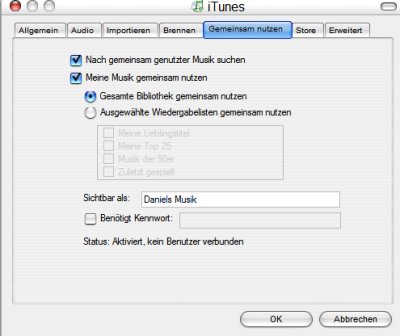 (hier der Dialog nochmal in gross)