Archive for category artificial intelligence
I was on a business trip the other day and the office space of that company was very very nice. So nice that they had all sorts of automation going on to help the people.
For example when you would run into a room where there's no light the system would light up the room for you when it senses your presence. Very nice!
There was some lag between me entering the room, being detected and the light powering up. So while running into a dark room, knowing I would be detected and soon there would be light, I shouted "Computer! Light!" while running in.
That StarTrek reference brought an old idea back that it would be so nice to be able to control things through omnipresent speech recognition.
I am aware that there's Siri, Cortana, Google Now. But those things are creepy because they involve external companies. If there are things listening to me all day every day, I want them to be within the premise of the house. I want to know exactly down to the data flow what is going on and sent where. I do not want to have this stuff leave the house at any times. Apart from that those services are working okayish but well…
Let alone the hardware. Usually the existing assistants are carried around in smart phones and such. Very nice if you want to touch things prior to talking to them. I don't want to. And no, "Hey Siri!" or "OK Google" is not really what I mean. Those things are not sophisticated enough yet. I was using "Hey Siri!" for less than 24 hours. Because in the first night it seemed to have picked up something going on while I was sleeping which made it go full volume "How can I help!" on me. Yes, there's no "don't listen when I am sleeping" thing. Oh it does not know when I am sleeping. Well, you see: Why not?
Anyway. What I wish there was:
cheap hardware – a microphone(-array) possibly to put into every room. It either needs to have WiFi or LAN. Something that connects it to the network. A device that is carried around is not enough.
open source speech recognition – everything that is collected by the microphone is processed through an open source speech recognition tool. Full text dictation is a bonus, more importantly heavy-duty command recognition and simple interactions.
open source text to speech – to answer back, if wanted
And all that should be working on a basic level without internet access. Just like that.
So? Any volunteers?
SPAUN or Semantic Pointer Architecture Unified Network is a promising next step in the pursuit to simulate a human brain. Built upon the Nengo Neural Simulator scientists at the University in Waterloo/Ontario were able to report on their first break-through results.
In 2013 there will be a book from Oxford University press called 'How to build a brain' which will describe in depth what made the astonishing results possible.
But what are the results?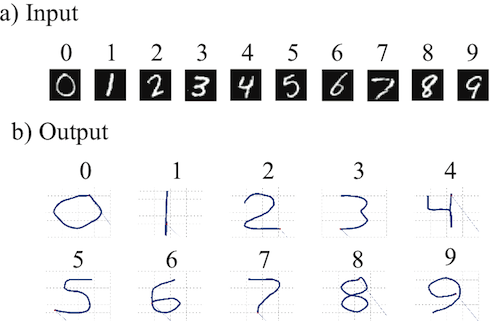 Well that looks like number recognition. In fact that's what it is. SPAUN – that's how the scientists refer to their frankenstein-brain – is capable of solving 8 different tasks now. One of them is number recognition. There are videos of all 8 tasks being performed.
The Semantic Pointers are named after the pointers usually common in computer science:
"Higher-level cognitive functions in biological systems are made possible by semantic pointers. Semantic pointers are neural representations that carry partial semantic content and are composable into the representational structures necessary to support complex cognition.
The term 'semantic pointer' was chosen because the representations in the architecture are like 'pointers' in computer science (insofar as they can be 'dereferenced' to access large amounts of information which they do not directly carry). However, they are 'semantic' (unlike pointers in computer science) because these representations capture relations in a semantic vector space in virtue of their distances to one another, as typically envisaged by connectionists. "
Source 1: http://nengo.ca/build-a-brain
Source 2: http://nengo.ca/build-a-brain/spaunvideos/
Those who know me well know that I am a strong believer of artificial intelligence. We're not there yet. Not even close, I don't know if we (as in humanity) even left the launchpad. But I strongly believe that it will be possible to simulate human thoughts – maybe not in the way AI is defined:
"The field was founded on the claim that a central property of humans, intelligence—the sapience of Homo sapiens—can be so precisely described that it can be simulated by a machine.This raises philosophical issues about the nature of the mind and the ethics of creating artificial beings, issues which have been addressed by myth, fiction and philosophy since antiquity.Artificial intelligence has been the subject of optimism,but has also suffered setbacksand, today, has become an essential part of the technology industry, providing the heavy lifting for many of the most difficult problems in computer science." (Wikipedia)
More on that in another article in the future since I started working on that subject earlier and now I come across a lot of authors and mostly science fiction books that deal with that topic.
Now there is a new book by Ray Kurzweil. It's called "How To Create A Mind" and deals with the topic of how human thoughts come to be and how the human mind seems to work.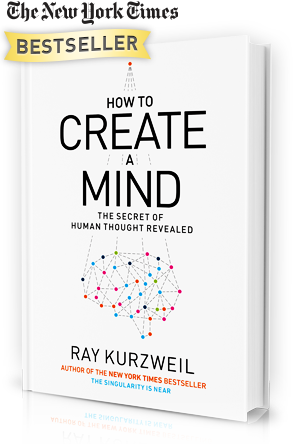 "Now, in his much-anticipated How to Create a Mind, he takes this exploration to the next step:  reverse-engineering the brain to understand precisely how it works, then applying that knowledge to create vastly intelligent machines.
Drawing on the most recent neuroscience research, his own research and inventions in artificial intelligence, and compelling thought experiments, he describes his new theory of how the neocortex (the thinking part of the brain) works: as a self-organizing hierarchical system of pattern recognizers. Kurzweil shows how these insights will enable us to greatly extend the powers of our own mind and provides a roadmap for the creation of superintelligence—humankind's most exciting next venture. We are now at the dawn of an era of radical possibilities in which merging with our technology will enable us to effectively address the world's grand challenges."
Source 1: http://howtocreateamind.com/
Source 2: http://en.wikipedia.org/wiki/Artificial_intelligence