Archive for category Software
"In 1999, Rockstar Games and Rockstar North (then known as DMA Design) furthered the groundbreaking gameplay concepts established just two years prior in the original Grand Theft Auto – with the release of GTA2. GTA2 expanded on the top-down, open-ended crime world gameplay formula with a host of new features including the advent of multiple rival gangs – seven, to be exact, including the Yakuza, Scientists, Looneys, Rednecks, Zaibatsu, the Russian Mob and Hare Krishnas. Earn your respect with each gang. Reap the benefits with all manner of shady work-for-hire gigs contracted your way. And climb your way to the top of the criminal pile.
Now, longtime Grand Theft Auto fans can revisit this classic entry in the series – and new jacks who missed out on this early franchise title can further discover Grand Theft Auto's roots – absolutely free. GTA2 has been completely optimized for play on modern PCs and is available gratis for all registrants to the Rockstar Games mailing list (rest assured your information will not be shared with any third parties, you will only receive information from Rockstar). Simply fill out the form below and check your email for a direct link to the file (353 MB .zip file, includes install .exe, readme .txt file, and a .pdf of the original PC game manual)."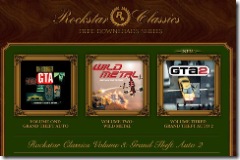 It's there; It's final and it's got a huge number of new features, paired with a new UI.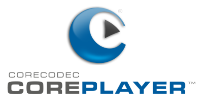 What once was free is now for sale. Yes, the well known TCPMP player for Windows Mobile is now called "CorePlayer". And it'll set you back $24,99. Quite an amount for this app…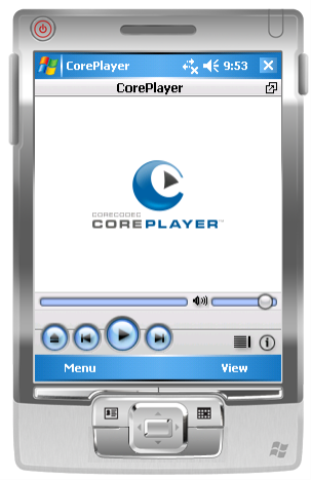 Decide for yourself it some new codecs and a new UI is worth the money…it's not for me.
Source: http://coreplayer.corecodec.org/
Sven brought up the idea to start a "DotNetUserTaskGroup" – which, to simplify the explanation, is a group of .NET interested people who once in a while get a task to solve. Everything is for fun and educational purposes only. No commercial background whatsoever.
To kick off the idea Sven opened up a website where you can find more information on the subject (german only at the moment). Don't miss our .NET Community site.
Source 1: http://www.dotnetadventures.de
Source 2: http://www.dotnetcommunity.de
Imagine the possibility to search for keywords in Podcasts. Imagine that integrated into every next generation podcast application: Wouldn't it be great? There's a company that does that right now:
"HearHere™ lets you quickly find the portions of an audio or video podcast that interest you.
Pluggd's HearHere allows people to jump to the exact position in audio or video, such as podcasts and video casts, where there is something they want to hear. People have come to expect this instant return with web pages, but up until now audio and video have failed to deliver the same searchability. Now, you will no longer have to listen to five minutes of an NPR podcast before you reach the topic you care about. HearHere changes everything."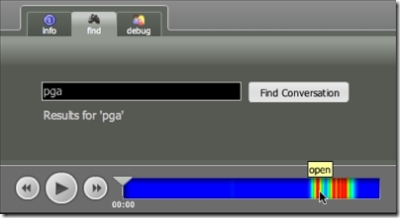 Source: http://www.pluggd.com/demo
Here it is from Microsoft: Currently in CTP, The SQL Server 2005 – Everywhere Edition is a compact database (5MB memory footprint, approx. 2MB!! disk footprint)
Full referential integrity with cascading deletes and updates
Multiple connections for foreground and background operations
Single data file with password protection and 128-bit file level encryption
Transaction support to commit and rollback grouped changes
A wide range of data-types, such as UNICODE character data types, IMAGE, MONEY, and IDENTITY
Supports database size up to 4 gigabytes
SET Functions (aggregates), INNER and OUTER JOIN, subselect, and GROUP BY and HAVING clauses
Scrollable and updatable cursors to provide fast and easy data access
So. Take a look at it. There is also the slightly bigger SQL Server 2005 Express Edition, which gives you nearly all the functionality of a large scale multi-user database. But when you need to do small tasks (e.g. small websites) you need to try that one.
Source: http://www.microsoft.com/sql/ctp_sqlserver2005everywhereedition.mspx

It's been some days when I wrote about my wish and need for low latency network audio solutions. And now it seems that there is something to help the situation: JACK.
"Have you ever wanted to take the audio output of one piece of software and send it to another? How about taking the output of that same program and send it to two others, then record the result in the first program? If so, JACK may be what you've been looking for.
JACK is a low-latency audio server, written for POSIX conformant operating systems such as GNU/Linux and Apple's OS X. It can connect a number of different applications to an audio device, as well as allowing them to share audio between themselves. Its clients can run in their own processes (ie. as normal applications), or can they can run within the JACK server (ie. as a "plugin")."
This alone isn't what I was searching for…but there is NetJack – the network extension for JACK.
"Netjack is a Realtime Audio Transport over a generic IP Network. It is fully integrated into JACK."
Source 1: another nerd wish- low latency network audio
Source 2: http://jackaudio.org
Source 3: http://jackosx.com
Source 4: http://netjack.sf.net
Source 5: http://www.grame.fr/~letz/jackdmp.html
I am still using VMWare for some of my virtual machines – not because it's faster… Just because the one feature that VirtualPC just doesn't offer: USB Passthrough.

The other thing about VMWare is the number of great tools that are available. For example this one which is coming up soon: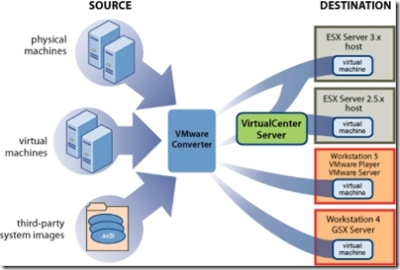 "VMware Converter is a highly robust and scalable enterprise-class migration tool that reduces the time that IT managers spend converting physical machines to VMware virtual machines. Using a snapshot based cloning mechanism that is extremely fast and reliable, VMware Converter enables remote conversions without disrupting the source server during the conversion process."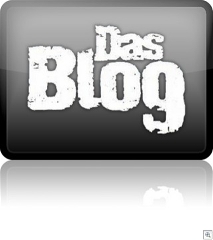 "Omar pulled the trigger and we released DasBlog 1.9.6264. Why 6264 you ask? Because it's 2006 and the 264th day, that's why. Download it."
Much better multi-user/blogger support including a Top Posters macro and total comments – from Christoph De Baene
TagCloud Support – from Scott
Support for Mobile Browsers like Blackberries and SmartPhones – from Scott

Note the large section in your web.config and the mobile theme that is required for this support.

Huge (100x+) speedup in Macro execution – from Scott
Support for If-Not-Modified to speed up execution, improve RSS bandwidth and CPU cycles – from Scott
Direct Feedburner Support with 301 redirection for RSS and Atom feeds. Don't lose a single subscriber. We're the only blog with direct support for Feedburner and Feedflare I believe. – from Scott

I encourage you to check out FeedBurner. You can add FeedFlare to your posts, and modify your feed in ways DasBlog can't. They also handle your Feed bandwidth and provide rich statistics. It's free ($ for advanced stats) and it's very powerful. Do be aware that when you make the decision to move over to FeedBurner your existing feeds will start redirecting folks to FeedBurner immediately. That's part of the power of the whole thing, but be warned.

Delete comments directly from your mail reader – from Omar
Comment moderation option
New themes out of the box, 18 at last count – from Many Folks
New XML-RPC support for newMediaObject and new version of XML-RPC.NET from Charles Cook – from Omar and Giuseppe Dipietro
Macros for Next Post and Previous Post – Justice Gray

Check the DasBlog theme or add this line to the top of your itemtemplate.blogtemplate.
<%PreviousLink("« ",25)%><%MainPageEntryLink("Main", "|")%><%NextLink(" »",25)%>


A few security and XSS fixes
Support for Gravatars, images of your choosing that appear next to your comments – John Forsythe
Support for limited HTML markup in comments – Alexander Groß
Emails removed to avoid having email addresses stolen from Feeds
Added an Email page for leaving comments to the author, includes Captcha
New support for RSD so client software can autoconfigure itself – from Omar
Pluggable Rich Text Editor, choose from the latest version of FreeTextBox or FCKEditor or write your own adapter – from Josh Flanagan
Support for alternate SMTP ports
We work with Windows Live Writer out of the box – from Omar
Support for CoComment – from Scott
Microsummary support for Firefox 2.0 Beta – from Scott
Organized source, build, and packing for clarity – from Josh Flanagan
New Feed Icons – from Omar
Autometic generation of Google SiteMaps – from Scott
Automatic disabling of Comments after a certain number of days. Also manual "close comments" support – from Omar
ContentLookAhead show future dated posts – from Josh Flanagan
Other fixes and suggestions from Tomas Restrepo, Jason Follas, Rene Lebherz and Steven Rockarts. Added entry CPU usage optimizatons from George V. Reilly.
Ajax Autosave Drafts support from Steven Rockarts and Justice Gray.
Better strings and support for German, Portueguese, Turkish and Vietnamese from Ph?m Ð?c H?i.
Many great new themes
Updated readme.rtf from Tim Sherill
Single-handed support of DasBlog.info and DasBlog.us to the enthusiastic and tireless Tom Watts!
Welcome to new team members Alexander Groß, Paul Van Brenck, and John Forsythe who really did a lot of work to make this release possible! Thanks to Jacob Proffitt for doing some crazy debugging of caching on FireFox that will be in a point release soon.
New DasBlog Badges/Artwork from Alexander Groß…download them here: File Attachment: DasBlog Artwork.zip (1015 KB)
Source: DasBlog 1.9 Released
So, wasn't it Apple who claimed that Microsoft is copying almost all features from Mac OS X? Where's the Innovation Apple when it comes to your own products?
Almost a year ago a guy named "Jonathan del Strother" released a nice tool called "Coverflow". Now Apple bought the Coverflow Intellectual property. It's common sense in the IT industry to do such things. But Apple is one of the few companies that blame other when they are doing that…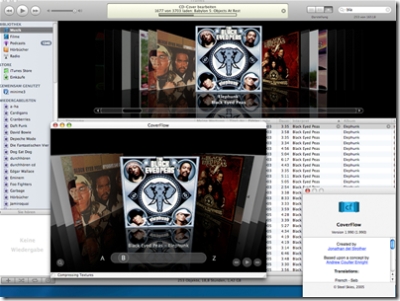 "We are pleased to announce that all CoverFlow technology and intellectual property was recently sold to Apple. It has been incorporated into the latest version of iTunes."
After using the "Web-Search"-Plugin of TV-Browser to program new recordings into YAPS, ello came across with the idea to use the "Capture"-Plugin instead.
And after doing so: It's incredible what that Capture Plugin can do!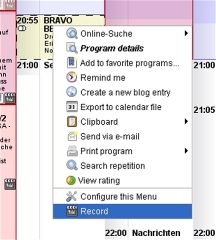 in the context menu: the "Record"-Button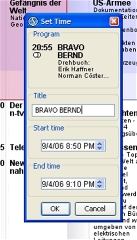 specify the title..and you're done…
The Capture Plugin does several things:
making the programming of new recordings as easy as possible
showing visually that this particular episode will be recorded
allowing you to remove the recording from the schedule
And all you have to do to add this functionality to your TV-Browser is:
download: YAPS TV-Browser Plugin
import the YAPS.tcf file into the Capture-Plugins Device Listing (Import Button)
configure the server name and the channel-name mappings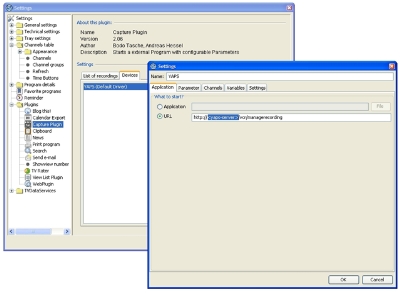 When you're done with that everything should work. Oh… I have to admit: The record delete functionality is not quite working as it should…but it will in some of the next builds…
Thanks to the TV-Browser team for creating such a great application!!! Keep on the good work!
Source: http://www.tvbrowser.org

I just configured the build system to generate daily builds straight of the subversion repository. You can grab the daily build archive here.
Dailybuild (Microsoft.NET): http://www.slow-backward.de/yaps_daily_build.zip
Dailybuild (MONO): working on that
Dailysource: http://www.slow-backward.de/yaps_daily_source.zip
The changelog since I wrote the last YAPS news:
04.09.2006
fixed a PlayCount bug
removed unnecessary files for Daily Build support
03.09.2006
changed all text messages and web-templates to english
added correct mimetype handling to the http server
fixed a bug in the 404 error handling when a file was not found
aded a verbose mode to the ConsoleOutputLogger – disabled by default; only logging to console html page
fixed a bug that caused a complete crash when a wrong/unknown adress/channel was requested for streaming
added more error handling to the http server (streaming and vcr)
added license.txt (BSD license)
added Settings Loading and Saving (to be extended…)
01.09.2006
fixed a bug in the Usage_Bar HTML Template Processor that could cause a lockup in the HTML page rendering process
fixed a bug in the HTTP Server error handling that caused "Saving Settings" everytime a 404 occured…
added a startup check to the VCRScheduler that sets unfinished recordings after a YAPS restart to done
You can find the changelog in the daily build archive "Documentation and Misc" folder. Also a build logfile and svn checkout logfile can be found in the "logs" folder.
In the next days I am going to implement the Settings System and GUI.
Tell us what you are YAPS using for, which features are great, which ones not, which ones do you you need in the future? What would make YAPS a great tool for you?
Ever wondered what 1000 cars at once might look like? Wonder no more!
Source: http://www.gametrailers.com/umwatcher.php?id=12321
…build yourself a "just-like-the-original" power consuming flight simulator. I am not sure what would be more expensive. This setup or the ultra-light aircraft which is currently simulated…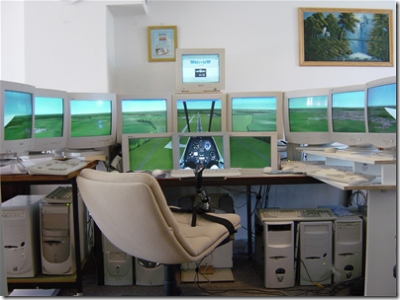 Follow the link and see other home-cockpit-setups.
Source: http://www.shorttext.com/z0gv5