Archive for category Talks and Slides
It's about time to import some data into our previously established object scheme. If you want to do this yourself you want to first run the Crunchbase mirroring tool and create your own mirror on your hard disk.
In the next step another small tool needs to be written. A tool that creates nice clean GQL import scripts for our data. Since every data source is different there's not really a way around this step – in the end you'll need to extract data here and import data here. One possible different solution could be to implement a dedicated importer for the GraphDB – but I'll leave that for another article series. Back to our tool: It's called "First-Import" and it's only purpose is to create a first small graph out of the mirrored Crunchbase data and fill the mainly primitive data attributes. Download this tool here.
This is why in this first step we mainly focus on the following object types:
Company
FinancialOrganization
Person
Product
ServiceProvider
Additionally all edges to a company object and the competition will be imported in this part of the article series.
So what does the first-import tool do? Simple:
it deserializes the JSON data into a useable object – in this case it's written in C# and uses .NETs own JavaScript deserializer
it then maps all attributes of that deserialized JSON object to attribute names in our graph data object scheme and it does so by outputting a simple query

Simple Attribute Types like String and Integer are just simply assigned using the "=" operator in the Graph Query Language
1:1 References are assigned by assigning a REF(…) to the attribute – for example: INSERT INTO Product VALUES (Company = REF(Permalink='companyname'))
1:n References are assigned by assigning a SETOF(…) to the attribute – because we are not using a bulk import interface but the standard GQL REST Interface it's necessary that the object(s) we're going to reference are already in existence – therefore we chose to do this 1:n linking step after creating the objects itself in a separate UPDATE step. Knowing this the UPDATE looks like this: UPDATE Company SET (ADD TO Competitions SETOF(permalink='…',permalink='…')) WHERE Permalink = 'companyname'
For the most part of the work it's copy-n-paste to get the first-import tool together – it could have been done in a more sophisticated way (like using reflection on the deserialized JSON objects) but that's most probably part of another article.
When run in the "crunchbase" directory created by the Crunchbase Mirroring tool the first-import tool generates GQL scripts – 6 of them to be precise: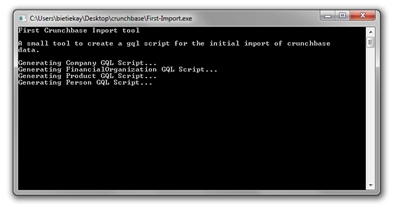 The last script is named "Step_3" because it's supposed to come after all the others.
These scripts can be easily imported after establishing the object scheme. The thing is though – it won't be that fast. Why is that? We're creating several thousand nodes and the edges between them. To create such an edge the Query Language needs to identify the node the edge originates and the node the edge should point to. To find these nodes the user is free to specify matching criteria just like in a WHERE clause.
So if you do a UPDATE Company SET (ADD TO Competitions SETOF(Permalink='company1',Permalink='company2')) WHERE Permalink = 'companyname' the GraphDB needs to access the node identified by the Permalink Attribute with the value "companyname" and the two nodes with the values "company1" and "company2" to create the two edges. It will work just like all the scripts are but it won't be as fast as it could be. What can help to speed up things are indices. Indices are used by the GraphDB to identify and find specific objects. These indices are used mainly in the evaluation of a WHERE clause.
The sones GraphDB offers a number of integrated indices, one of which is HASHTABLE which we are going to use in this example. Furthermore everyone interested can implement it's own index plugin – we will have a tutorial how to do that online in the future – if you're interested now just ask how we can help you to make it happen!
Back to the indices in our example:
The syntax of creating an index is quite easy, the only thing you have to do is tell the CREATE INDEX query on which type and attribute the index should be created and of which indextype the index should be. Since we're using the Permalink attribute of the Crunchbase objects as an identifier in the example (it could be any other attribute or group of attributes that identify one particular object) we want to create indices on the Permalink attribute for the full speed-up. This would look like this:
CREATE INDEX ON Company (Permalink) INDEXTYPE HashTable
CREATE INDEX ON FinancialOrganization (Permalink) INDEXTYPE HashTable
CREATE INDEX ON Person (Permalink) INDEXTYPE HashTable
CREATE INDEX ON ServiceProvider (Permalink) INDEXTYPE HashTable
CREATE INDEX ON Product (Permalink) INDEXTYPE HashTable
Looks easy, is easy! To take advantage of course this index creation should be done before creating the first nodes and edges.
After we got that sorted the only thing that's left is to run the scripts. This will, depending on your machine, take a minute or two.
So after running those scripts what happened is: all Company, FinancialOrganization, Person, ServiceProvider and Product objects are created and filled with primitive data types
all attributes which are essentially references (1:1 or 1:n) to a Company object are being set, these are

Company.Competitions
Product.Company
That's it for this part – in the next part of the series we will dive deeper into connecting nodes with edges. There is a ton of things that can be done with the data – stay tuned for the next part.
Tomorrow the US TechEd takes off. If you cannot attend personally you can attend it virtually.

Microsoft hosts a website called "Virtual TechEd" where you can watch talks and keynotes via streaming video.

Beside watching the talks you can listen to the TechEd radio livestream.
Source 1: http://virtualteched.com/
Source 2: TechEd radio livestream
As this is a germany-only-offer I'll do it in german:


"Die Entscheidung ist gefallen! Die überwältigende Anzahl von 6477 Teilnehmern hat es der Jury sehr schwer gemacht. Dennoch stehen die deutschen Vertreter für das Weltfinale in Indien jetzt fest. Die vielen tollen Ideen und Euer super Engagement möchten wir mit Euch gebührend feiern – denn eine Party unter Palmen bei 25° Lufttemperatur und 31° Wassertemperatur geht auch in Deutschland. Wir laden Dich hiermit herzlich zur Imagine Cup Beach Party am 30. Mai 2006 in das Tropical Island Resort nach Brandenburg ein.
360 m lang, 210 m breit und 107 m hoch, eine Grundfläche von 6,6 Hektar mit 7000 Kubikmetern Wasser und über 20.000 tropischen Pflanzen, dies ist genau der richtige Ort für einen würdigen Abschluss des Imagine Cup 2006 in Deutschland.
Deck-Chair-Coding, karibischer Flair, Beachparty in der größten freitragenden Halle der Welt, und das alles kostenlos, … lass Dich überraschen!"
Es sind noch ca. 50 Plätze für Studenten frei. Also los und anmelden! Die Vergabe findet nach dem First-Come-First-Serve Prinzip statt.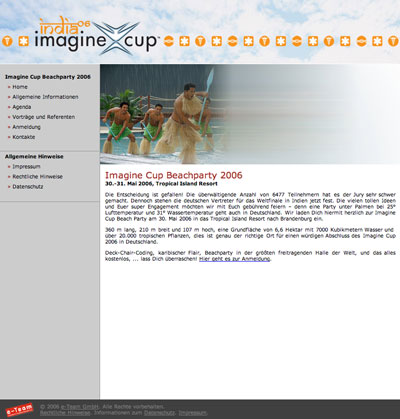 Hier geht es zur Anmeldung.
Hier auch ein kurzer Blick auf die Agenda: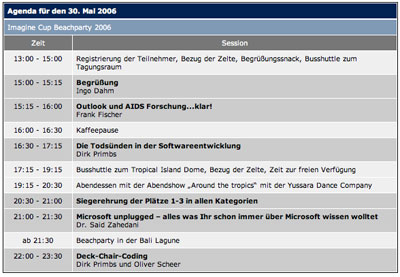 Source 1: Imagine Cup Beachparty 2006
Source 2: Microsoft Imagine Cup 2006
The complete MIX conference lectures (slides+videos) are online and ready to be downloaded. Very much information…
"The MIX conference is a 72-hour conversation between Web developers, designers and business leaders. When you attend MIX you'll learn the latest about IE7, Windows Media, Windows Live!, as well as "Atlas", Microsoft's new AJAX framework."

Source: http://mix06.com/Default.aspx
Berkeley University of California just made a great number of their audio courses available for free download on iTunes. Just tune in and get a taste of cal.
I actually got a taste of the incomparability of two universities… The courses are great!
ACCESS & DOWNLOAD COURSES on your computer or MP3 player
LISTEN TO EVENTS about the Arts, Education, Politics, Science and Technology
BE CONNECTED with what's happening at UC Berkeley

But Berkeley is not the only university which has some sort of online-courses. FeM e.V. offers you a growing number of complete courses of the TU-Ilmenau with video+audio.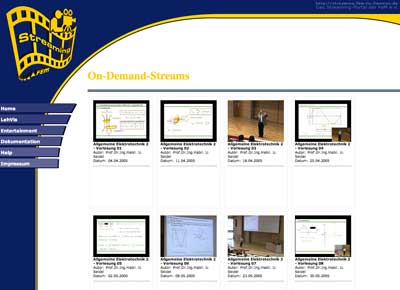 Source 1: Berkeley on iTunes

Source 2: FeM e.V. Streaming TU-Ilmenau
So here are some news about the 22c3 recordings:
According to the last information I got, 130 of 146 recordings are ready to go. I don't know why the team decided to release them all at once only but unfortunately you'll have to be patient.
The release is planned for THIS WEEK. So stay tuned and check back for more information.
Source: http://22c3.fem.tu-ilmenau.de
So here we are. The January passed by and still no recordings. What happened?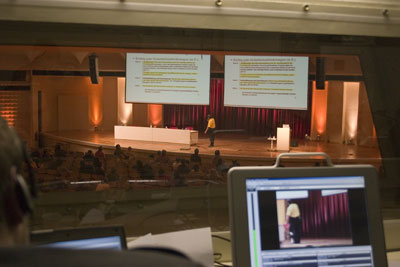 picture by namenlos
Straight after the congress we started working on the recordings – but soon we realised that almost all of the recordings we made live with ffmpeg and his friends were corrupted: The audio and video is just not in sync.
Well it would be easy if it was just shifted for a given amount of time – but the amount of shifting time is changing all through the recordings.
So we engaged DEFCON 4 and got back on our backup solution that is there, just in case something would go wrong. (who would have thought that?!).
So what's DEFCON 4? We came to the congress with 400 brand new DV tapes. And that's simply what our backup solution is: everything that was recorded during the 22c3 is on DV tape. And it's in sync there.
So we are extracting nearly all of the recordings from those DV tapes…
And as you can imagine: this takes some time. It takes less time than we'd expected – we are making serious progress. Together with the CCC it was decided that an intro and outro should be added to each recording – that also takes some time. If you are experienced in creating scripted/batched DV material with definable text… we obviously need your help 🙂
So when will the recordings be available? We hope very very soon. Like I said we are making good progress in getting the stuff off the tapes, but it's very difficult to give a time frame. Check back here or on the official 22c3 FeM Homepage for updates – … well if we can get the intro/outro issue working fast it'll probably be only days away.
If you have any comment, feel free to comment here.

So here we are: a new year and just two days after the 22c3. As we can tell everything was recorded as planned and everything went just great.
I want to tell everybody who helped to make this happen: Thank you very much. It was a pleasure and great fun to work with you guys. The results that we all together achieved speak for themselves: nearly 1 Tbyte of downloaded live-stream bytes. Nearly 400 listeners on our streams at peak times.
In fact there is a lot to do afterwards: We have to cut the MPEG2 files (5 Mbit) of each lecture to set start and end-times correctly. We have to tag them and make them available (1 to 5 gigabyte each) for you as soon as possible – which means when the last hard drive arrives from berlin here in Ilmenau.
When all MPEG2 files are complete we complete our MPEG4 encodings – which means: we are already encoding everything we have in MPEG4 1.2 Mbit.
This is our main focus at the moment. It should be possible to make everything of the above mentioned available within January. After all this is done (or maybe in the meantime, we don't know at the moment) the remaining WMV on-demand streams will become available as we have to reencode. So check back here to get more information and updates about this topic.
I often was asked why the WMV on-demand streams were only available for the first day: the answer is easy – we tested if it's feasible to cut them nearly live – and we came to the conclusion that it raises the stress bar for our team to high to handle it the complete 4 days of the conference. So we changed our plans to ensure that you have a mostly flawless live-streaming experience.
At the end: Here is the list of the people I want to thank for their support and help at 22c3 (without any order actually):
laforge and his team, maedness, mucki, namenlos, manu, cosrahn, Agtmulda, yray, cutcat, ecki, ahzf, ambanus, somi, all the video and audio angels that made the great audio and video possible, Ambion for the great support, the POC who helped were our cable guys and supported us even with coffee, the NOC which made IPv6 happen finally and made the best conference network ever possible…. and a whole lot more people I forgot.
22. Chaos Communication Congress
3G Investigations

lecture slides
Scanning your GPRS/UMTS IP network for fun and profit
We are giving an overview of ip networks used for >=2.5G technologies. Our main focus is on scanning the overlaying ip network, on different Voice-over-IP filter implementations and the possibilities to circumvent them.
We want to explain the ip networks used in GPRS and UMTS cellular networks from the enduser point of view. How do they work today and what has to be done to get a normal webpage, voice-over-ip or even a video stream onto your PDA or SmartPhone.
For your private investigations inside your providers ip network we want to demonstrate you a tcp/udp port and round-trip-time based traceroute program based on the .NET compact framework. With the help of this program we want to analyse the anti voice-over-ip filters implemented by different cellular providers and show you some possibilities how to circumvent them _efficently_. So we don't just tunnel all the traffic through a VPN. But even when these filters become more sophisticated in the future we want to present some ideas how to defeat your right to talk via voice-over-ip whereever and whenever you want to.

Slide download (PDF, 5.9 Mbyte)
Sourcecode:
PrivateInvestigationNetworkToolSrc.zip (239,1 KB)
Nico held is talk this friday – and here are his slides for you to download.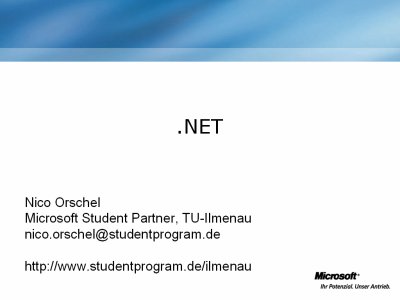 Slides:
DotNET_Softwaretechnologie_fuer_das_Internet_2.ppt (1,79 MB)
It's time for another What The Hack wrap-up session: (slides are in german)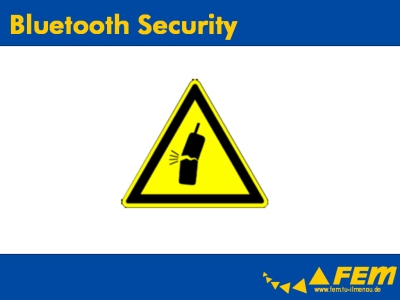 Slides: WTH_Bluetooth_Security.ppt (801 KB)
My slides are based on Martin Herfurts talk at the What The Hack 2005. You can get his slidesdeck at trifinite.org.
Nico wrote a cool article about the TerraServer WebService and how to use it with Visual Studio 2005. He uses this WebService in his talks as a WebService example – a great idea: The problem is now, that the example sourcecode does not work under Visual Studio 2005. So he changed it to work – and you can download the new sourcecode here.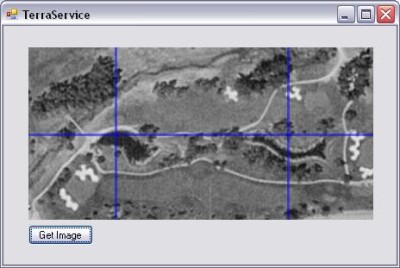 Source 1: Nico's Weblog
Source 2: TerraServer WebService
Source 3: Example Source
Source 4: Download VS2005 compatible Sourcecode
Here are the slides for my talk at the ".NET Chaostage" at the FH-Deggendorf. They are in german so be warned.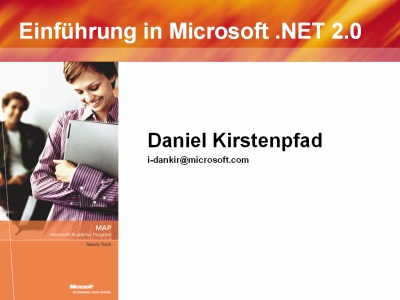 Slides Download: Einführung in .NET 2.0.ppt (2,74 MB)
Demos Download: Einführung in .NET Demos.zip (45,13 KB)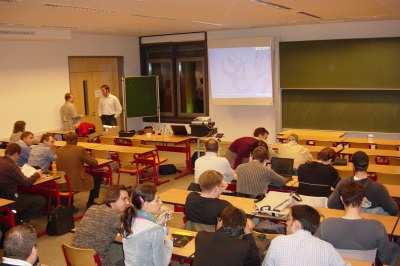 Oh…and Torsten Weber took some nice pictures of the FH Deggendorf campus: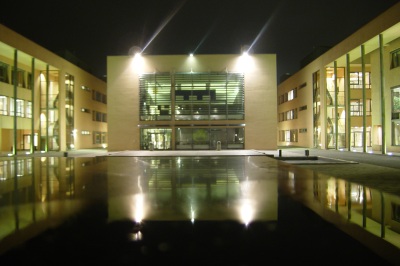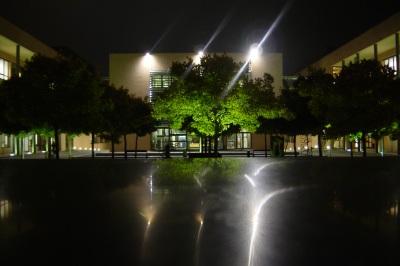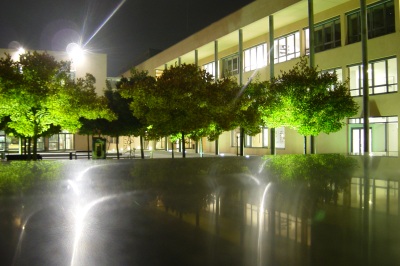 In the future I will put all the slides I have from my talks online at schrankmonster. I will create a dedicated categorie: Talks and Slides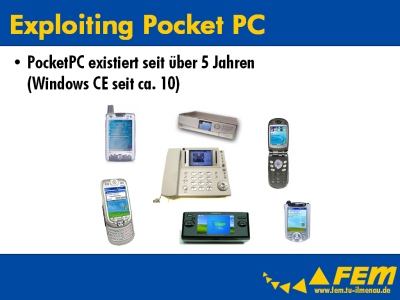 Slides Download: WTH_Exploiting_Pocket_PC.ppt (1,23 MB)
My slides are based on Collin Mulliners talk at the What The Hack 2005.