Archive for category TU-Ilmenau

The event is over and it was great! More than 7 hours of new information compressed into 8 talks were presented today. If you missed the event, don't worry: you can download the slidedecks here and of course if you like, you can participate in another University-Roadshow 2006 event in another german city (complete list and subscription here). If you like to attend some more talks at the TU-Ilmenau you can watch out for the local community website: www.dotnetcommunity.de – Since we're in the process of building a INETA .NET Community here in Ilmenau we're planning several events in the next months. Oh, to name one: on the 25th and 26th of next month there's a ASP.NET workshop, held by my colleague Nico Orschel. More information on that can be found on dotnetcommunity.

The Slidedecks are available in three different formats(german language versions only):
Windows Vista für Jedermann (Daniel Kirstenpfad):

ThamThon did the pictures and I did the HDR rendering…
Source: http://www.campus-wm-2006.de
In den heutigen, von Terrorgefahren verunsicherten Zeiten, passen sich die Menschen auch an ganz unerwarteten Stellen den Gegebenheiten an.
Aus dem aktuellen Statistik-I-Übungsskript, Aufgabe 20:
"Unter den 20 Passagieren eines Charterfluges befinden sich zwei Bewaffnete, die das Flugzeug entführen wollen. Zehn Passagiere werden zufällig ausgewählt und genau untersucht. Wie groß ist die Wahrscheinlichkeit dafür, dass die beiden Bewaffneten unentdeckt bleiben?"
Na dann, frohes Rechnen…
Jens Heymann
So our test-drive 6509 is setup-and-going in the local junk server room. As you can see the room is obviously used for two different purposes. On the one hand it's a windowless central network service point…and on the other it's… oh dear…take a look for yourself: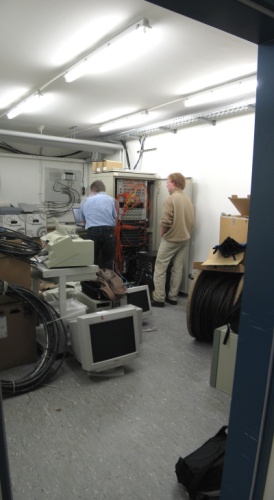 When you come closer…you see…:

TWO 6509!!!!..
an old one(in the rack) and the new one (on the ground)
And to raise some pulses -a module listing:
c6509-ng#sh module

Mod Ports Card Type                              Model              Serial No.

— —– ————————————– —————— ———–

  3   48  CEF720 48 port 10/100/1000mb Ethernet  WS-X6748-GE-TX     xxxxxxxxxxx

  4   24  CEF720 24 port 1000mb SFP              WS-X6724-SFP       xxxxxxxxxxx

  5    2  Supervisor Engine 720 (Active)         WS-SUP720-3B       xxxxxxxxxxx

  7    6  Firewall Module                        WS-SVC-FWM-1       xxxxxxxxxxx


Mod MAC addresses                       Hw    Fw           Sw           Status

— ———————————- —— ———— ———— ——-

  3  0000.0000.0000 to 0000.0000.0000   1.0   12.2(14r)S5  12.2(18)SXD7 Ok

  4  0000.0000.0000 to 0000.0000.0000   2.3   12.2(14r)S5  12.2(18)SXD7 Ok

  5  0000.0000.0000 to 0000.0000.0000   4.4   8.1(3)       12.2(18)SXD7 Ok

  7  0000.0000.0000 to 0000.0000.0000   3.0   7.2(1)       2.3(4)       Ok




Mod Sub-Module                  Model              Serial        Hw     Status

— ————————— —————— ———— ——- ——-

  3 Centralized Forwarding Card WS-F6700-CFC       xxxxxxxxxxx   2.0    Ok

  4 Centralized Forwarding Card WS-F6700-CFC       xxxxxxxxxxx   2.0    Ok

  5 Policy Feature Card 3       WS-F6K-PFC3B       xxxxxxxxxxx   2.1    Ok

  5 MSFC3 Daughterboard         WS-SUP720          xxxxxxxxxxx   2.3    Ok


Oh…something that raised our pulses… a 6513 in one of the other Network Service Points…yummi: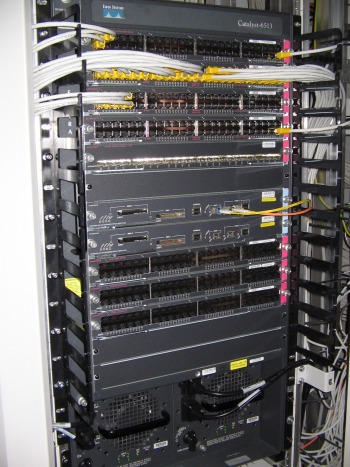 At the moment the ahzf and cosrahn are playing with the machine…so more stuff is definitly to come soon.
Once a year the HFC (HochschulFilmClub) organises a drive-in cinema. And yesterday was the first of two days of drive-in cinema in Ilmenau. Unfortunately a storm came up just before the show started. I was ready in place for the movie and then the HFC decided to cancel the event for this time…
They told us to come back the next day…well I don't have time 🙁 So no drive-in cinema for this year for me.



Oh…we (Microsoft) even sponsored the event…
Source: http://www.hochschulfilmclub.de/
Berkeley University of California just made a great number of their audio courses available for free download on iTunes. Just tune in and get a taste of cal.
I actually got a taste of the incomparability of two universities… The courses are great!
ACCESS & DOWNLOAD COURSES on your computer or MP3 player
LISTEN TO EVENTS about the Arts, Education, Politics, Science and Technology
BE CONNECTED with what's happening at UC Berkeley

But Berkeley is not the only university which has some sort of online-courses. FeM e.V. offers you a growing number of complete courses of the TU-Ilmenau with video+audio.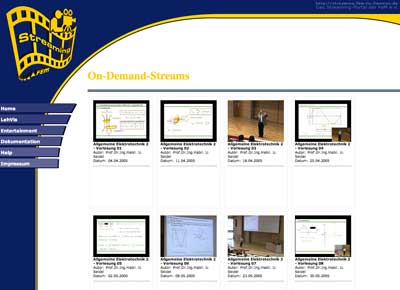 Source 1: Berkeley on iTunes

Source 2: FeM e.V. Streaming TU-Ilmenau
Hey it's april! And on my way home I took some pictures…giving you an impression of the cloudy sky which is characteristic for Ilmenau at this time of the year…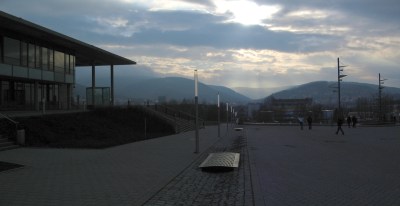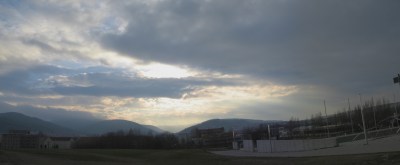 Gooooooooooooooooooooooooooooooooood morning my feathered friends!
The new semester starts today and I successfully introduced a new diurnal rythm. It's quite hard to go to sleep at 12 PM when you did go at 5 AM the last months. But it worked. It's 7:30 AM and I am awake, already showered and fit to start the day.
Even the sun is shining… a bit…
In case you're wondering why I am not writing that much articles at the moment…
I am currently working on the Virtual Server Implementation of the MSDNAA download servers for 4 universities here in germany…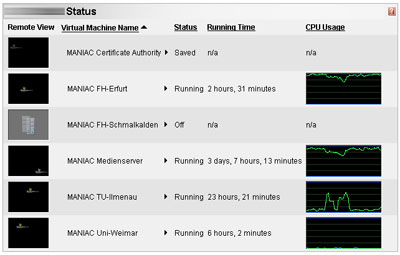 Source: Microsoft Virtual Server 2005 R2
I am migrating the currently running MSDNAA download server solution to a Virtual Server 2005 R2 based solution. Since some of the portions of schrankmonster.de / technology-ninja.com are running on those machine you may experience some bumps in the next hours…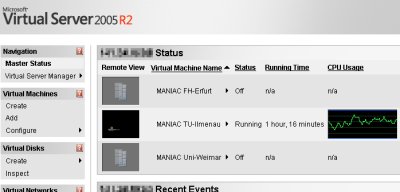 Everything on schrankmonster.de / technology-ninja.com should work by the time the sun shows up in europe…
I thought winter would be over after seeing the temperatures raise on the 19th of February…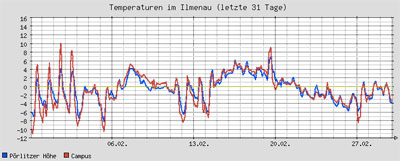 But I should have known better… so it was more like this today: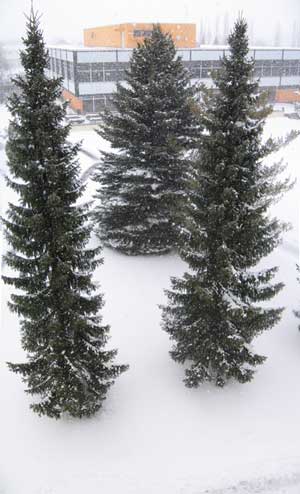 Just not to forget… a picture of warmer times: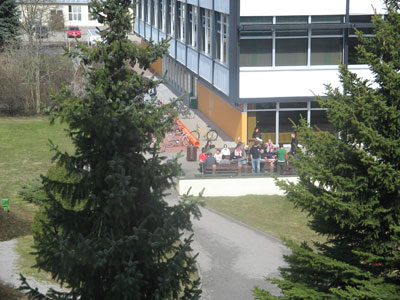 Ach ja, immer wieder ein schönes Gefühl, in einer Klausur zu sitzen und zu merken, dass man die Tage vorher das falsche Zeug gelernt hat.
Das Einzige, was man neben neuen Erfahrungen mitnimmt, sind die lange nicht mehr gesehenen Bekannten und die recht zahlreichen "Dosen" (Ja, sowas gibts auch in Ilmenau…).
Wobei es sich nicht um irgendeine Klausur handelte, sondern um Statistik I. Wer jemals fühlen möchte, was es heißt, zu einer verhassten Minderheit zu gehören, der sei MTler und setze sich dort mal hinein.
Jens Heymann
Since it's really cold outside (-5 degree celsius whilst I am writing this) and the exam period is getting closer I am sitting behind my desk like I should. Just 13 days to go for the first exam…grrr…
In fact here's my personal perfect learning enviroment (pple):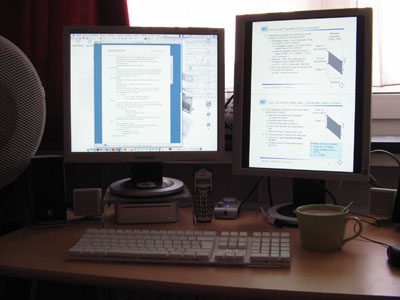 Feel free to comment 😉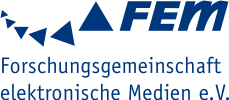 Im Rahmen der Mitgliederversammlung 2006 legt der aktuelle Vorstand sein Amt nieder!

Ihre Arbeit fortsetzen und somit erneut Kandidieren wollen

– Marcel Pennewiß
– Thomas Helbig

Susanne Wolf steht nicht für eine erneute Kandidatur zur Verfügung.

Weiterhin möchte Martin Heller für den Vorstand kandidieren.
Dieser stellt sich im folgenden vor:


---
Mein Name ist Martin Heller. Ich bin 22 Jahre jung und studiere Maschinenbau im 5. Semester.
Wie jeder andere Campusstudent trat ich 2003 der FeM bei. Anfang 2004 begann ich, mich für die dahintersteckende Technik zu interessieren. Bereits Mitte 2004 übernahm ich von Philipp Neuwöhner den Posten des Chefeinkäufers, den ich bis zum jetzigen Zeitpunkt inne halte. Das Interesse am Verein hat sich während meiner Arbeit stark erweitert – heute bin ich in mehreren Teams aktiv. So zum Beispiel im Technikteam, dem FiWak oder dem Streamingteam, bei dem ich die technische und logistische Organisation der Aufzeichnung des 22. ChaosCommunicationCongresses (22C3) in Berlin übernahm.
Aufgrund der bei meiner bisherigen Arbeit im Verein gesammelten Erfahrung habe ich mich entschlossen, diese im Vorstand einzubringen.
---
Ziele des neuen Vorstandes sind unter anderem:


Fortsetzung der Arbeit des bisherigen Vorstandes


weitere Zusammenarbeit mit der Uni, um FeM uniweit zu etablieren und so auch Anrechnung von Studienarbeiten etc. Aktiven zu erleichtern


Zusammenarbeit mit anderen FeM-ähnlichen Vereinen, um gemeinsame Ziele besser vertreten zu können und KnowHow zu bündeln


unterstützen von in Entwicklung befindlichen Vereinen mit unserem Fachwissen


Verbesserung der Kommunikation der Mitglieder und Projekte untereinander


endgültige Einbindung des iSTUFF in die FeM


Intensivierung der Zusammenarbeit mit anderen uninahen Vereinen


Erhöhung der Öffentlichkeitswirkung um mehr Aktive zu gewinnen
…the sun when you take a closer look. So they tested the Sanyo XF-45 without me and my 360 – but nevertheless they tested and approved it good.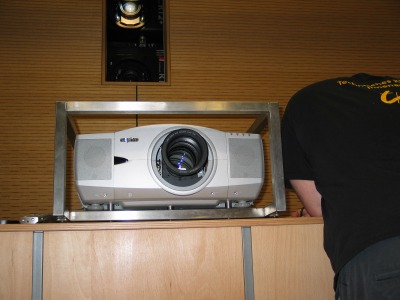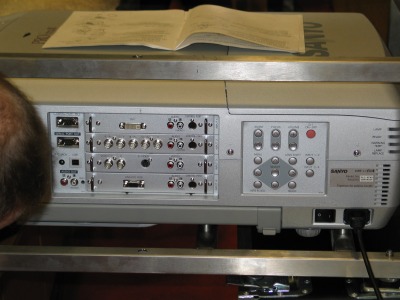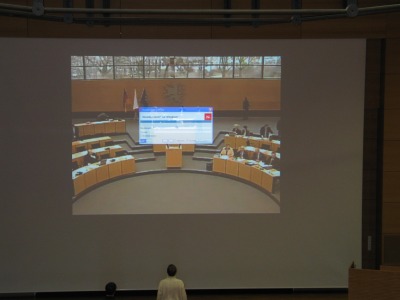 that's a humongous picture guys!
Hrhr – MORE POWER! Today a SANYO XF-45 arrived for our testings tomorrow…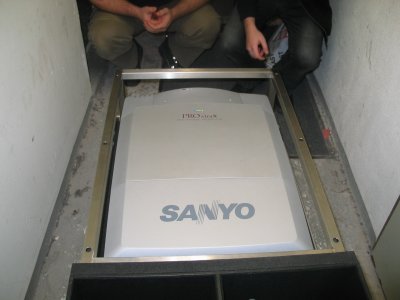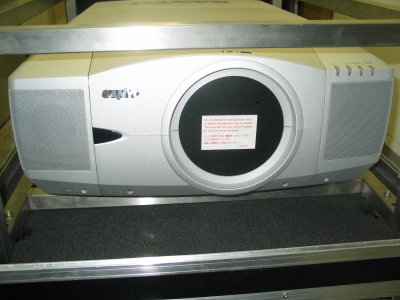 Well just remember: some days ago Samsung announced a LED projector with humongous 23 ANSI Lumen… compare that to the 10.000 of the XF-45…
Source 1: Sanyo XF-45
Source 2: Samsung SP-P300ME
Bad things are taking place in Ilmenau these days. First there was the WiFi link of FeM which was stolen whilst we're at the christmas party….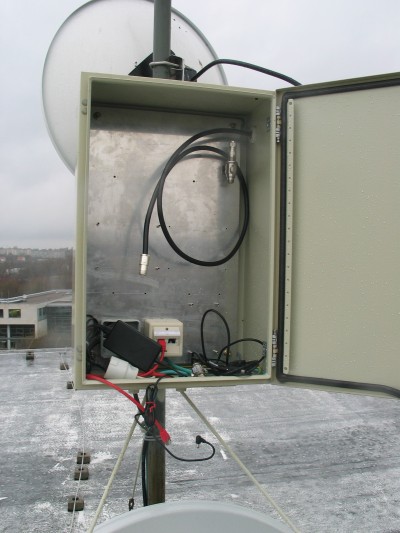 there was a SOEKRIS PC.
The thieves left the enclosure open so there's probably water in the cableing. 🙁
And as if this wasn't enough on this saturday some bad guys destroyed two of the server room air conditions of FeM: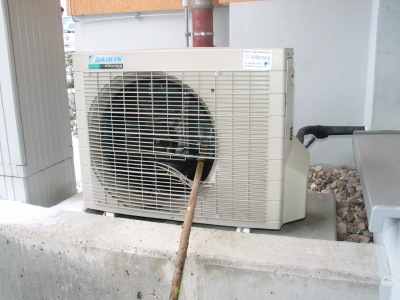 server room: I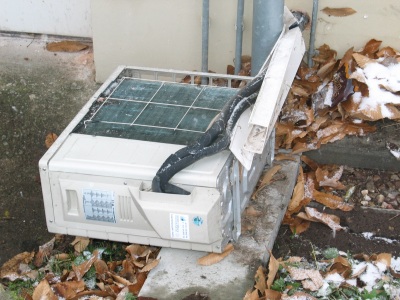 server room: C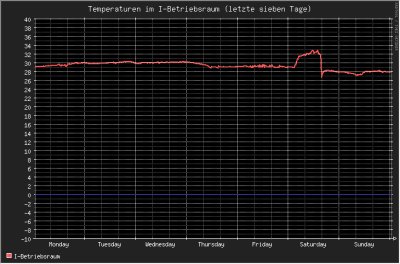 temperature peak after the air condition was gone
The I server room air condition was fixed with parts of the C server room air condition – but the C server room remains with temperatures around 30 degrees after we shut down the not necessarily needed servers. Damn my mail server is down since saturday since it's a 4-way xeon machine consuming way to much power and producing way to much hot air for an unconditioned server room.
What's going on people? Hopefully the thieves and vandals will get caught.
a crackling sound…voices whispering… I opened my door and our dorm-tutor + some helping hands apparently sticked one of those chocolate candies on every door… NICE! Thank you dude!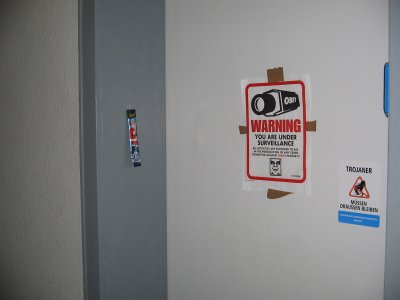 Nico held is talk this friday – and here are his slides for you to download.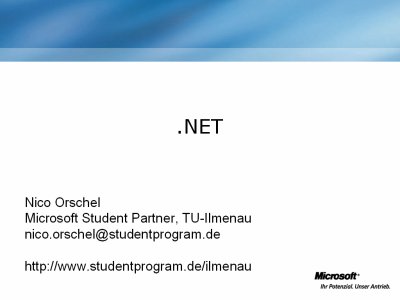 Slides:
DotNET_Softwaretechnologie_fuer_das_Internet_2.ppt (1,79 MB)
The T-COM was supposed to install some ISDN lines – and what did they do? Take a wire and span it across the server room… why not…!!!!!!!!!!!!!!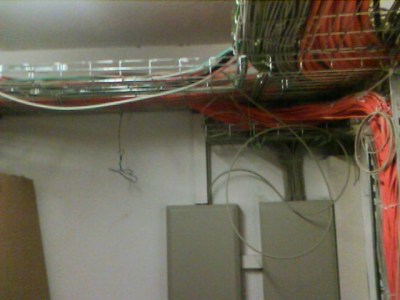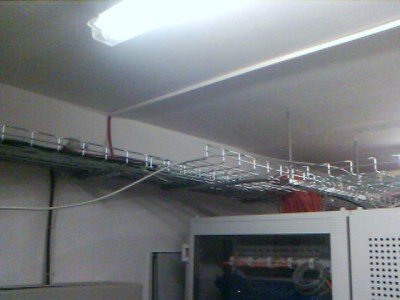 and as if this wouldn't be enough…make it go through the CLOSED window…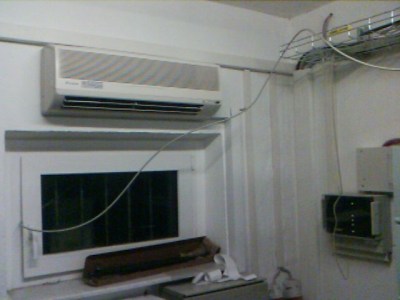 On the way back home I came past a house where one particular window attracted my interest. A huge 1337 is in bright letters in that window. Obviously some elite hackers are living there…
When I made the pictures I noticed that just one floor down right from my elite window another obviously rich students are watching tv on some kind of big ass tv – probably a projector…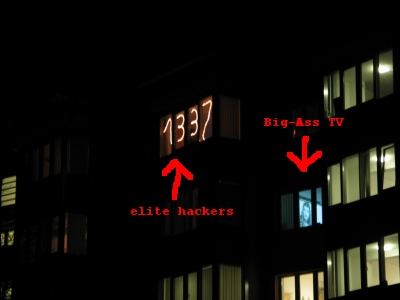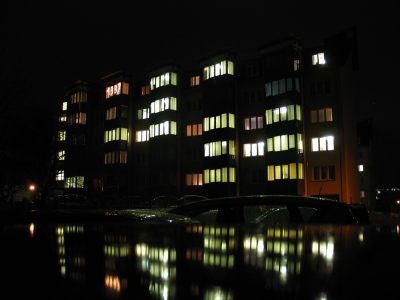 Since I don't have the space (and money) for such artefacts as a big ass tv – I am just jealous with the guys…I want one for my 360… okay let's start small: I want a 360!
The first day of lectures is over and it was quite a success because more people than expected wanted to hear our talks…



next time we probably have to double the space…
The new semester starts in the next week and there will be several information events. One of them will be presented by Samuel and me.
If all happens as we plan it, it should be an entertaining event 😉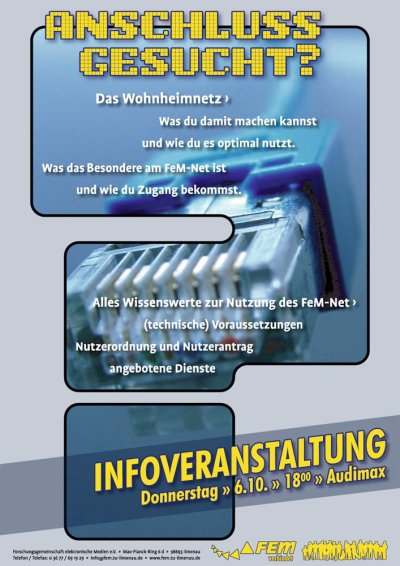 Source: http://www.fem.tu-ilmenau.de
"In Ungarn gibt es nach Schätzungen 100.000 Prostituierte. 15 von ihnen müssen dem horizontalen Gewerbe nicht mehr nachgehen – sie werden neuerdings von der EU gefördert und in einer Medienschule zu PR-Assistentinnen ausgebildet." (Quelle: tagesschau.de [1])
Verdammt, die sollen Medienwirtschaft in Ilmenau studieren. Oder gleich AMW. Nebenjobs gäbe es genug!

Weg vom Strich mit Hilfe der EU
[1] http://www.tagesschau.de/aktuell/meldungen/0,1185,OID4799358_REF3,00.html
Seen by medienfloh
How desperate do you have to be to put this message onto the pinboard of your university?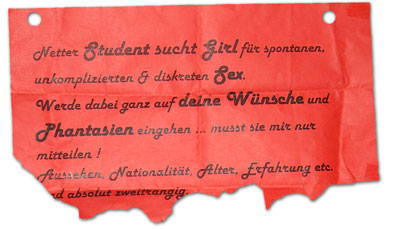 In english:
Pretty student is searching a girl for spontaneous, straightforward and discreet Sex. I will go into your wishes and phantasies…you just have to tell me. Look, Nationality, Age, Experience etc are secondary.
This article is not:





about link-farms






about Star Wars






about cats






about cutting cats
This article is about the website of Anett. So go and visit her site! Beautiful pictures and a clean design 🙂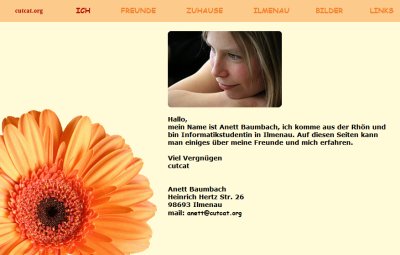 Source: http://www.cutcat.org
Since some days Google Maps has my university town (Ilmenau) available for searching and viewing… and when I found the place where I live… well I can see my car… it's about 4 or something pixels … but well there it is…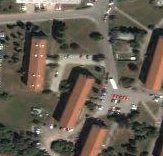 Source: http://maps.google.com
On 1700 the second FeM e.V. FIWAK started. To explain it short what that is:
Around 40 people go into the forest. Take a power generator and a huge number of network and computer equipment with them. 3 big tents and several small ones… of course Wireless LAN Internet access everywhere…


the small tents…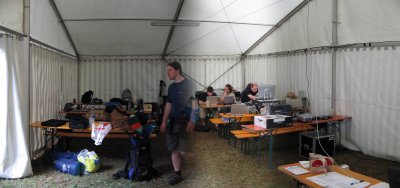 inside the talk-tent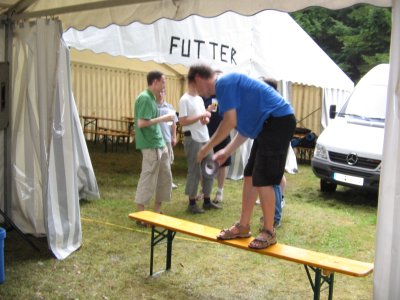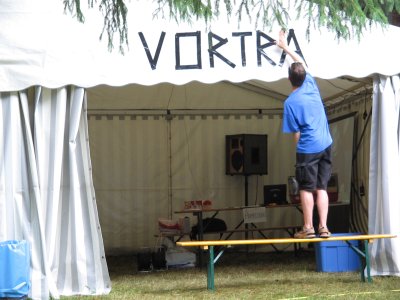 Namenlos at work…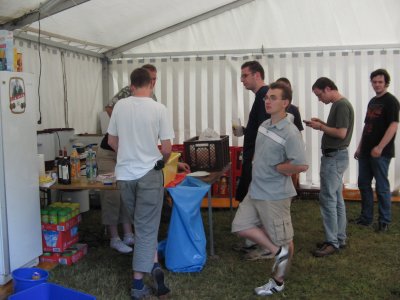 eating! eating!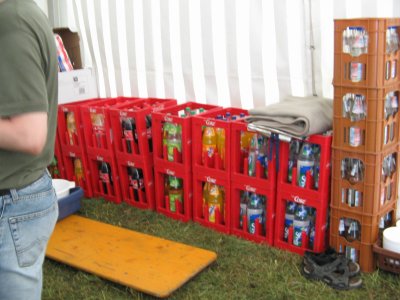 drinking! drinking!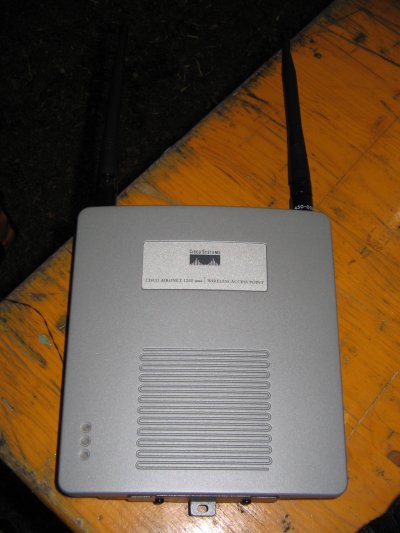 networking! networking!
It's rite at the TU-Ilmenau to make a movie when you have "Bergfest" (half time to make it simple)… so it's time for a new one: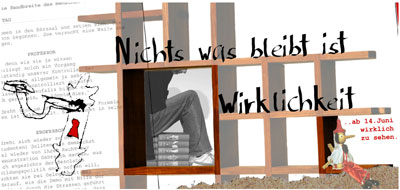 "NICHTS WAS BLEIBT IST WIRKLICHKEIT erzählt die Geschichte von Joe. Eigentlich heißt Joe Johannes, aber so hat ihn schon seit Jahren keiner mehr genannt. Er lebt in einer kleinen Stadt inmitten des Thüringer Waldes und geht dort, mehr schlecht als Recht dem Studium der Physik nach. Eigentlich ist er kein besonderer Student. Vielleicht etwas klüger als die anderen, dafür aber auch schwermütiger, denn es scheint, als würde er eine schwere Last mit sich herumtragen. Das war allerdings nicht immer so. Früher war er aufgeschlossener und fröhlicher. Früher war er glücklich. Vor dem tragischen Schicksalsschlag, der sein Leben so veränderte.
Sein Freund Hagen kennt diesen alten Joe noch. Und vielleicht aus Hoffung, dass diese Lebensfreude wieder zurückkommt, ist er so ziemlich der einzige, der sich noch um seinen Freund kümmert. Joe selbst lebt schon längst nicht mehr. Jedenfalls ist es ihm anscheinend nicht mehr bewusst.
Und wäre da nicht Hagen, er würde wahrscheinlich die meiste Zeit in seiner Wohnung verbringen, tief versunken hinter Büchern sitzen und sich seinen Tagträumen hingeben.
Es ist also kaum verwunderlich, dass Joes seelischer Zustand auch an seinem Körper nicht spurlos vorbeigeht und er eines Tages in der Uni erschöpft zusammenbricht. Im Krankenhaus lernt er Marie kennen und Joe beginnt, sich in dieses lebensfrohe Mädchen zu verlieben, das so komplett anders ist als er. Und auch wenn es zunächst nicht den Anschein macht, so übernimmt das Schicksal langsam wieder das Ruder in Joes Leben…"
Am 10. Juni 2005 veranstalten die Fachschaftsr