Okay. Ich bin entschiedener Gegner der Rechenzeitverschwendung – der Kreuzritter der sinnvollen Anwendungen – und nun das:
"My seti farm is constantly growing/changing (as do most home farms !!), it started off by using all the bits I had lying around to make up as many pc's as possible (I used to be a trader, so had a "few" bits around the place) The next step was ordering parts to go with what was left , eg shuttle boards to use the spare athlons I had Then as the bug bit even harder I started ordering parts to make more and more machines (crunchers). I now favor the caseless cruncher stacks , which have the advantage of taking up less space , but the disadvantage of being more hassle if you have to move them."
Da hat sich so ein halbwegs Irrer gleich Palettenweise PCs in die Bude gekarrt um nichts sinnvolleres damit zu tun als SETI zu rechnen. – Das ist… BAH!
mal ein paar, dann doch, eindrucksvolle Bilder: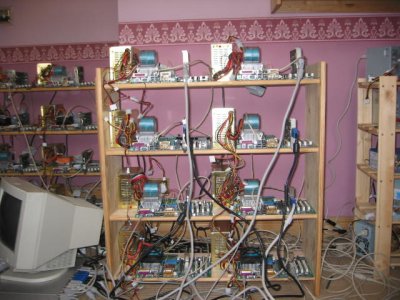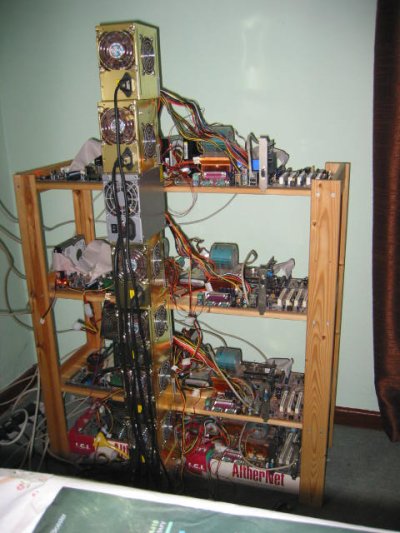 Quelle: http://shadyshack.dyndns.org/farm/future.html