Eine wirklich interessante Exception hat Alex da bekommen: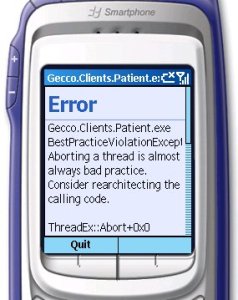 Ich hatte zwar noch nie eine solche BestPracticeViolationException aber gut zu wissen das es da jemanden gibt der sich Gedanken um den Code macht den man so als ständig unter Zeitdruck stehender Entwickler verzapft… – In Visual Studio 2005 (aka "Whidbey") wird ja auch FXCop und noch eine Reihe mehr Tools integriert sein, welche sich auch und vor allem um die Code-Qualität kümmern:
"FXCop is a code analysis tool that checks .NET managed code assemblies for conformance to the Microsoft .NET Framework Design Guidelines. It uses reflection, MSIL parsing, and callgraph analysis to inspect assemblies for more than 200 defects in the following areas:



Library design

Localization

Naming conventions

Performance

Security"
Neben dieser Form der Code-Qualitätssicherung wird es auch Unit-Tests und vor allem "Static Code Analysis", ehemals PREfix/PREfast. Wobei letztere zwei Tools nur für unmanaged Code gedacht sind: Sodass dieser endlich soweit als automatisiert möglich ist von Buffer-Overflows und dergleichen befreit werden kann:
"PREfast analyzes C and C++ source code by stepping through all possible execution paths in each function and simulating execution to evaluate each path for problems. PREfast does not actually execute code and cannot find all possible errors, but it can find errors that the compiler may ignore and that may be difficult to find during debugging."
Quelle 1: http://blog.gidionsoftware.de/alex/archive/2005/03/03/403.aspx
Quelle 2: BestPractiveViolationException
Quelle 3: FXCop
Quelle 4: http://www.microsoft.com/whdc/devtools/tools/PREfast.mspx
Quelle 5: Howto Interop with unmanaged code.