Minimo – die Mozilla Portierung für Smartphones nimmt Formen an und die ersten Bilder des laufenden Browsers sehen sehr sehr vielversprechend aus: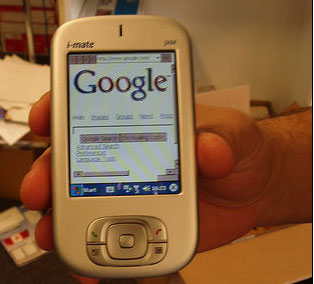 "I thought Asa was going to beat me to the punch with these photos. Here are a couple of photos of MiniMo on a cell phone and PDA taken on my camera by Doug or Asa, not sure who. Anyhow, it's very cool and can't wait for us (well, dougt) to get this out to people. A very rich browser experience on a PDA or cell phone is going to be interesting for both content developers and consumers. The form factor of cell phones and PDAs definitely presents a challenge, but you can see it's not too shabby in these two photos. Having access to the web via these devices is convenient and may prove invaluable."
Das ganze gibt es dann auch direkt zum Download. Die aktuellste Version ist hier zu bekommen.
Quelle 1: http://rebron.org/blogarchives/2005/03/minimozilla_com.html
Quelle 2: http://www.flickr.com/photos/91116329@N00/sets/153327/
Quelle 3: http://www.meer.net/~dougt/minimo_ce/