While we had some racing fun Atze was working on the newly modded Linksys WRT54G Wireless LAN Accesspoint.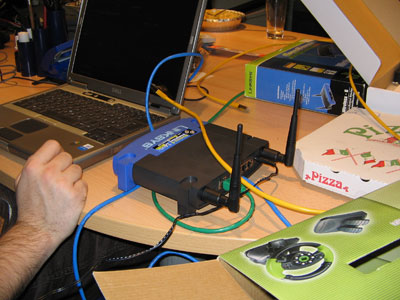 Yes it runs Linux now… and hopefully he got the little gizmo working… because when we were there he was cursing all the time because some routing and NAT did not work…
By the way: isn´t this colorful network equipment…i´m sure we would have even red TP cable.
Two days ago i received this brand new Speedlink Green Lightning Wheel for testing.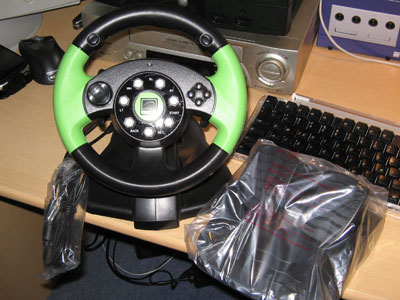 And today my mate namenlos messaged me: "Pizza, Office ? Bring your Xbox!" – and because the Pizza-idea is great so i brought my Xbox and the wheel.

This was the setup of the wheel: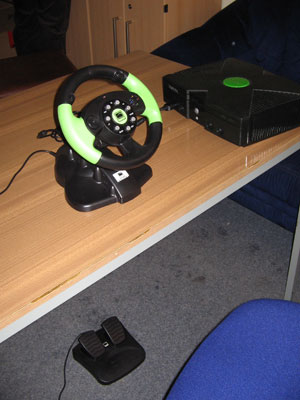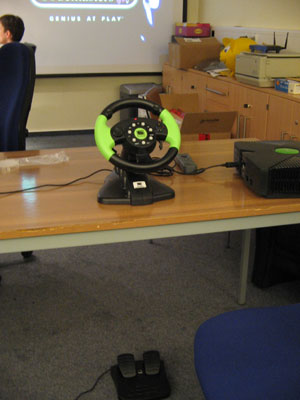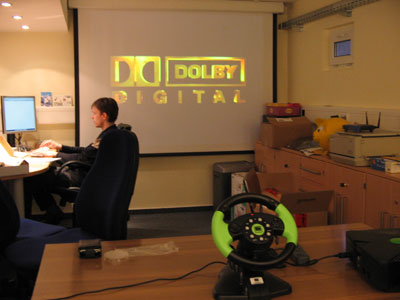 Okay. Enough pictures, now some text:
In my opinion the wheel has a much better quality than what you normally expect at this pricing-level (~€30,-). It is completely made of black plastic and some green rubber. You got all the Buttons you have on the normal Xbox Controller and some more – for instance the foot pedals. The wheel does not have any force feedback – but it vibrates when the normal controller would vibrate (you can disable that). Finally you can adjust the steering-sensitivity in 3 levels: 30 degree, 60 degree and 90 degree.
I've tested the wheel with Colin McRae 2005, V8 Racedriver 2 and Burnout 3 with completely different experiences: Colin McRae 2005 was not playable at all – It seemed that the wheel and the game were totally out of sync: When you steer it took the game some seconds to react. Very fungous. Colin McRae is hard with the normal controller but its unplayable with the wheel.
V8 Racedriver 2 was the complete opposite. Out of the box it just worked perfectly. After one hour of testing I was able to achieve the same or even better lap-times than with the normal Xbox controller. I found the highest steering-sensitivity level to be perfect.
Burnout 3 was – well playable but far from perfectly playable. It seems that the more arcade-style games are not the best games to play with the Speedlink wheel. The game reacted immediately to steering commands – but at all you have to steer to much to get the car moved around the circuits even when you use the highest sensitivity.
Finally some words to the foot-pedal: They do their job – but they could be improved: The next time please make the pedals wider.. i had some problems locating the pedals with my feet in the heat of the battle.
So my conclusion: When i drive on the Xbox i normally drive V8 Racedriver. So the wheel works great for me – but its generally useless for any semi-realistic or arcade racing game.
Source: Speedlink