In germany the gizmondo will launch at the end of may – but at the CeBIT i've got the chance to take a closer look. I've already written an article about the gizmondo some months ago.
Okay. Now my first impressions: The thing is definitly smaller than a PSP – mainly because the display is smaller. Compared to other mobile gaming devices the gizmondo has fewer buttons – if thats good or bad – time will show. On the demo units at CeBIT only some media-demonstrations and two games where shown: Both games were 2D games from SEGA. I'll say something more on that later first i would like to discuss the media capabilities of the gizmondo.
As far as i could see you can put almost any sort of media data on the gizmondo via the SD-Card slot. Of course you get a fancy menu from where you can select all sorts of media like pictures, music and videos. Because the gizmondo runs Windows Mobile its mediaplaying capabilities can be easily extended in the future. – For me it seemed that its not the normal Windows Mobile 2003 but a custom built Windows CE Version. Nevertheless cool. As far as i could see there was only one demo video (some Nelly music video…) – and this video, well… lets say it nice: they have to tweak a little bit on that particular feature because its not as smooth as one would expect. But from the technical specification of the gizmodo (fast as hell mobile graphic controller from nvidia) i would expect better results when the gizmondo would play my own content.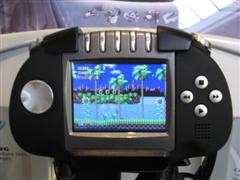 Unfortunatly there was no 3D or GPS game that i could test – only some really old SEGA Conversions/Emulations ran on the demo units. The fact is: This little thing has the required graphic horse power to ensure great gaming performance in 3D games. Well Richard Burns Ralley or Colors looked great – definitly a step forward (until the PSP launches?)… in the future the 2nd, 3rd generation games on the gizmondo will raise the graphic quality and the number of effects.
Well finally some words about the technical specification: until CeBIT i thought (and was told) that the gizmondo will have a 320×240 pixels display – but they told me it has a 640×480 display – and it looked more like the bigger resolution. Beside that it will have the GSM Module – but only for SMS / MMS and GPRS – you cannot use it as a mobile phone replacement (nokia loves that news, because you'll have to buy their NGage if you want that particular feature). Really cool is that the gizmondo comes with a GPS Module. I can think of thousand possible GPS based games that could be played via the GPRS Connection with hundreds and thousands of people simultaneously… lets see what time brings (hopefully the gprs rates will fall)