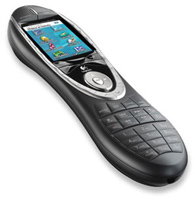 That's a remote control. A huge big-ass one of a remote control. But it's the right way anyhow: It's unsustainable that you have 3-4 maybe even 5 remote controls in the high-tech-palace some call their living room.
Look, it even has a full customisable color display:

"The Harmony 880 Advanced Universal Remote puts you in control of your entire audio-video system with just one button. It´s home entertainment the way it should be—simple.
Optimized for complicated HDTV and PVR systems, the Harmony 880 helps you tame tough configurations like switching your television between video aspect ratios depending on the program source. The interactive color display lets you quickly choose a 16:9 ratio for movies and HDTV, or a standard 4:3 ratio for basic television programming."
Source: Logitech