On my proceeding mission to evangelise the world with great music I have something for you. It's even more than just music: it's a seminal way of buying music. But from the beginning: First the music.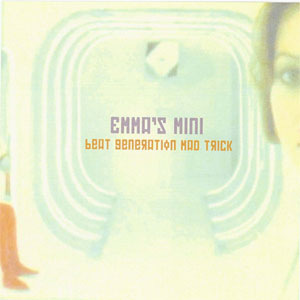 Emma's Mini: Beat Generation Mad Trick
It's actually the first album of Emma's Mini. And it's not brand new because it came out in 2003. But it's exactly what I had in mind that very moment I found it. I only heard one song and I bought the ablum straigt away. And I did not regret it. It's cool. It's innovative. Fits perfectly in my collection and will fit even more perfect in yours.
Because maybe the fewest will know Emma's Mini already, here's a short info on them:
"emma's mini is a duo based in Seattle, WA. They first started making music together in March of 2002 and in April of 2003 they self-released their first album, beat generation mad trick.
Taking their cue from bands such as lamb, Massive Attack and Moloko, emma's mini is creating a new and exciting sound, seamlessly blending Suzanne McClean's rich, lush vocals with Demian Shoemaker's innovative beats and soundscapes."
And indeed: Suzannes voice is great… and "soundscapes" is the word I also would have chosen when I should describe the music itself… Infact: Go and hear the complete album. And more important: If you like it, buy it! It's really worth the money. (what a great transition…)
Emma's Mini is not under contract at a major label. Infact they are – as far as i know – not under any contract. But they sell their music through Magnatune.
And Magnatune describes itself that way:
"We call it "try before you buy." It's the shareware model applied to music. Listen to 356 complete MP3 albums we've picked (not 30 second snippets). We let the music sell itself, because we think that's the best way to get you excited by it. Our selection is intentionally small: we never waste your time with mediocre music. If you like what you hear, download an album for as little as $5 (you pick the price), or buy a real CD, or license our music for commercial use. Artists keep half of every purchase. And unlike most record labels, our artists keep all the rights to their music. No major label connections and no venture capital. We are not evil."
And they mean it. You can choose how much you would like to pay for the music…from 5 bucks upward…that's great because you get the music without DRM or any other limitation… You even buy the exploitation right on the tunes… How cool is that!?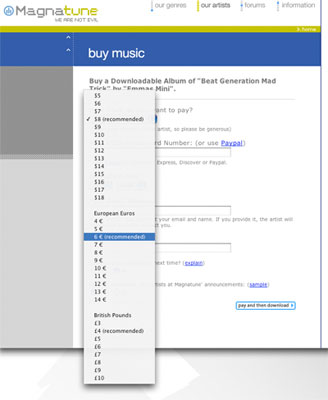 Magnatunes recommends a price…but you can change it easily, preferably upward.. ;-)