After evaluating what IMAP Server software is available I started with the least expensive one: Mercury Mail Transport System.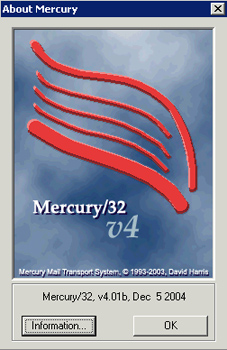 It's free so nothing to lose on that point. The plan was the following:


install and setup a plain Mercury

use Outlook Express and Drag'n'Drop to recreate the folder structure I've created in years of using PMMail

check if all went fine

create server-side message rulesets to get the mails in the right folders
And I started: Installation and Setup was no problem. I created a user for me and configured the POP3 Client-Module that retrieves the mail from my providers' POP3 Servers and sorts it into the Mercury-Inbox. So far so good.
Now the next step: How to get the old mail onto the new IMAP? – Easy:
I already said that PMMail stores each eMail into a single MSG File which is simply the complete mail that PMMail received from the server. So I fired up Outlook Express, created an account with my user-informations. So far so good: I created some top-level folders on the IMAP Server via Outlook Express. It worked…drag'n'dropping the MSG files from PMMails directories into the Outlook Express window worked also fine. BUT: I was unable to create subfolders. That really sucks, because my folder structure is somewhat convoluted.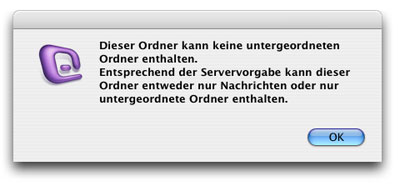 Entourage came up with this weird "error"-message…
"This folder cannot contain any subfolders. According to the server this folder
can contain either Messages or only subfolders."
The next big feature-miss that disqualified Mercury completly was the fact that it is impossible to move messages via a server-based rule into specific folders of an IMAP account. You can just copy/move a message to another account's inbox…. DAMN!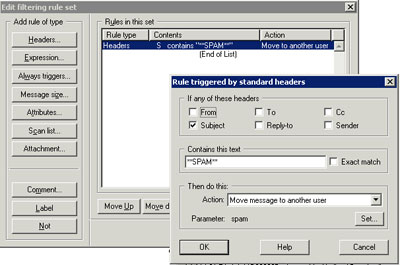 At the moment the Mercury Server is running but only as long as I need to setup a better solution: Today I'll give Microsoft Exchange 2003 a shot.
Source: http://www.pmail.com/