Most of us know Stardock as the company that creates the ultimate eye-candy tools like Windowblinds, and Objectdock. And now they've come up with a tool that makes it possible to control different computer with one mouse and keyboard. Think of that: you have 3 displays and 3 pc's. You used to have 3 times keyboard+mouse. That's going to change with Multiplicity. This tool switches your mouse+keyboard when you leave the display to another machine… so to switch: drag your mouse cursor right to the edge of the display …virtually to the next display… oh you get the idea! ;)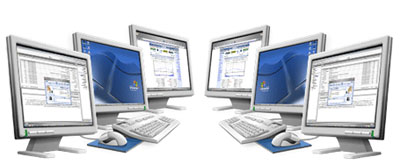 Greatly increase your productivity!






Easy to use interface! Get your machines working together in minutes!






Copy and paste images and text between computers seamlessly.






Great for graphics designers, 3D animators, developers, or other professionals who want or need the resources of multiple computers at their disposal but want to work with them as if they were a single unit.






Also great for gamers (particularly MMORPGs) who might want to keep an eye on other things on one monitor while the game runs on the other without any slow-down (or control two characters at once).






Terrific for users with a desktop PC and a laptop who want to control both from a single keyboard and mouse.






OS X client in development.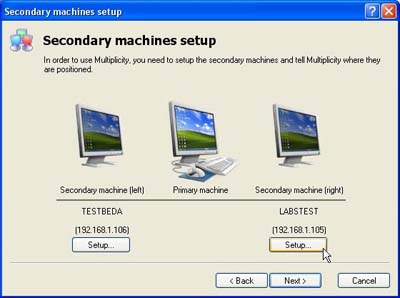 I would compare Multiplicity with Maxivista , which does similar things… BUT the fact that Stardock takes this whole idea to a new level… AND the fact that they're working on an OSX client… makes it irresistable for the power-user of today.
I'll give it a shot next week. So stay tuned for the complete test.
Source 1: http://www.stardock.com
Source 2: Maxivista article