After the EIB installation is working the next step is to documentate the whole stuff as detailed as possible. So I start the game with this little article:
Whats the EIB
Wikipedia says:
"European Installation Bus (EIB) is the world's leading system for "intelligent" electrical installation networking. The bus cable installed in addition to the supply cable combines devices and systems (e.g. heating, lighting or ventilation), which previously functioned separately from one another, into an economical system optimally adapted to individual requirements. Both now and in the future, this domotic network provides new functions which previously were either very difficult to implement or could not be implemented at all. For example, a turn of your house key can switch off forgotten basement light or the power supply to the iron. The result: EIB improves customized home living, security and efficiency – day for day – an entire life."
What for?
Well and what we are doing with it is:





switch light on/off






dim light






lower/raise the silver screen
and we want to do this via





the switches






a computer interface / web site / application
So we got this requirements so deka started to get a schema of what's needed: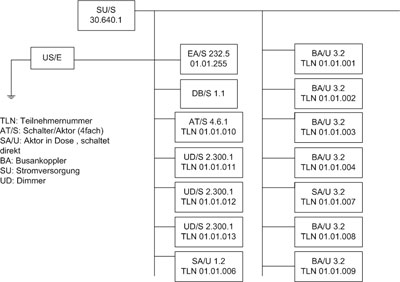 TLN: the number of the module
AT/S: the switch itself, in our case 4-way
SA/U: is an actor+sensor module integrated into a switch
BA: is a bus coupling module
SU: is the uninterruptible power supply
UD: dimmer module for the light
And now let me show you a floor plan of the office itself: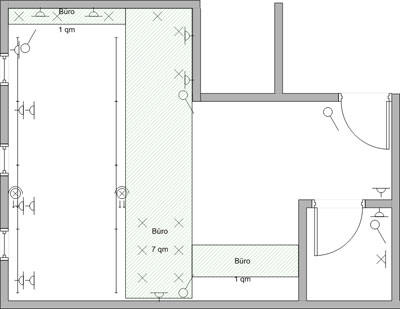 Each cross is a light that can be controlled over the EIB you can see power outlets, ethernet ports and switch modules.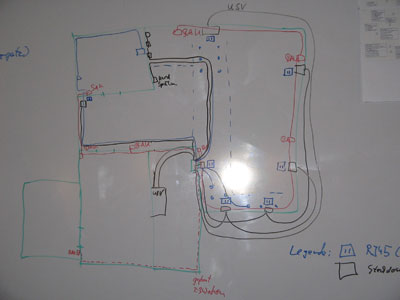 We even made some sort of drawing on the whiteboard to make clear what this is all about and how it's structured.
And because this is just part 1 ;) Iam stopping right now. So tune in when EIB comes back for more.
Source 1: http://en.wikipedia.org/wiki/European_Installation_Bus
Source 2: working EIB
Source 3: EIB research