Up to now, it was only possible to be informed about speed and covered distance of a workout session at a fitness studio or using an exercise machine at home. But what about jogging in unobstructed nature? Any guidance is missing. What distance did I cover? How many kilometres did I run? What was my speed? How is my training condition and how did it change during the last month?
Without such information you lose impulse, because you are not able to meter, evaluate, and compare your athletic success.
Should we do sport in stuffy rooms only? – Not with us!
We developed a software, which makes it possible to do sport everywhere and anytime – in unobstructed nature – while being informed about specific measured values of the workout session, like:
duration of the workout session
covered distance in kilometres
current speed
average speed
estimated calorie consumption
graph of the covered distance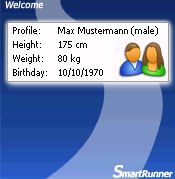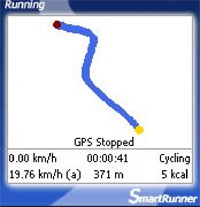 Using a web service we inform the athlete about the weather plus information about its short and medium term development in the actual training area.
Furthermore, SmartRunner provides an Internet site, where athletes can request extensive evaluation of their collected data, individual workout plans, nutrition recommendations, and advices for the best route. Additionally, it is possible to contact other athletes and exchange experiences and success in the JoggerCommunity.
This overall system uses the latest Microsoft technologies and consists of client application (.NET Compact Framework), web application (ASP.NET 2.0), Windows