Some weeks ago I was asked if I would like to do a review of the brand new MaxiVista 2. I've made a
test quite a while ago of the old version
and so I was very excited about what's new and better in the new version.
First: What is MaxiVista 2
Maxivista is a server-client application that gives you the ability to use displays of PCs that are connected to your main-PC via LAN as if they were connected directly to your main-PC. With a 100Mbit LAN Connection you almost forget that the Display isn't directly attached to your graphic card but attached via the network. With GBit there is simply no difference … just like I installed a second or even third graphic card. Impressive!

So I started with the following test setup: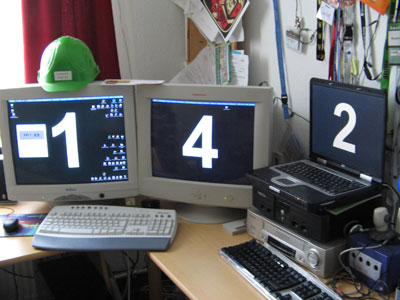 2 machines with 3 displays at all. The display numbers are 1,4,2 because I installed the 2 Extension-Display version of MaxiVista 2. So Display 1 and 4 is physically available and 2 and 3 are the MaxiVista 2 Extension-Displays.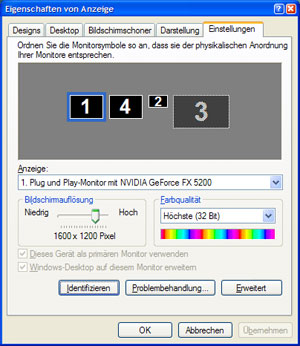 Since there is a great manual on the MaxiVista Website the installation and setup was as easy as possible. A 2 minute job, including the reboot of the server-machine. During the setup you're asked what sort of MaxiVista 2 Service you want to use:
one seconday PC – makes one additional display

two seconday PCs/one secondary PC with 2 displays – makes two additional displays

three secondary PCs/one secondary PC with 3 displays….and so on
On the primary PC MaxiVista 2 installs the server that – in that particular case – isn't a server from the network point of view. The server connects to the clients. So you launch the server on the primary PC and the client on the secondary PC(s). MaxiVista 2 does the rest. And THAT was one point I wasn't expecting to work. I used two machines for this review that are connected to the FeM-Net. Both machines where located in different subnets. And in this network the broadcasts aren't routed between the subnets. So I thought: How on earth could MaxiVista 2 possibly detect the secondary PC… well I even phoned the Publisher Bartels Media. It seems that there's some kind of magic voodoo power involved to get this job done. So I nodded and accepted it: MaxiVista 2 found the secondary machine without any problem… oh well there was just one problem with the Windows XP Firewall.

You possibly get the following message: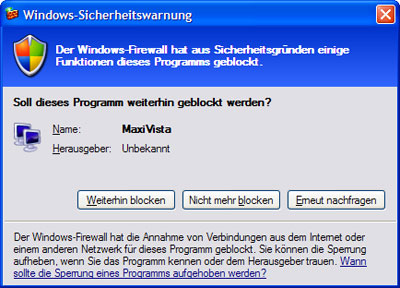 Just unblock it and you're done if you're machines are in the same subnet. If they are, like my machines, in different subnets you have to configure the Windows Firewall little bit to allow other subnets.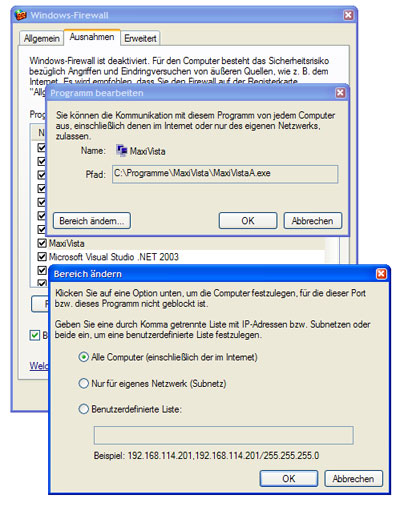 And then: It's done. MaxiVista found it's secondary PC, connected and p0wn3d the machines display. Great! That's it. I then just started using it as if the new display was directly connected…even when I played a movie on the additional secondary display it worked… BUT: To get a movie of the size above to work, you have to have a 1 Gbit link between your machines.. it's about 14 Megabyte/s of data…4 Megabytes/s more than a normal 100 Mbit link could supply.



this is a Screenshot of the Desktop when MaxiVista 2 is activated…as you can see even for the PrintScreen Feature of Windows (to make a screenshot) MaxiVista 2s secondary display looks like any ordinary display…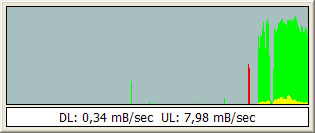 the network utilization when moving a full screen window to the additional secondary display
Then there are two more things to say about MaxiVista 2:

1st: the setup menu. It just contains what you can see down there. Nothing more. That's everything you can setup. And the fact that you never ever would need more to use MaxVista 2 should show you that this application was designed for one thing: to work.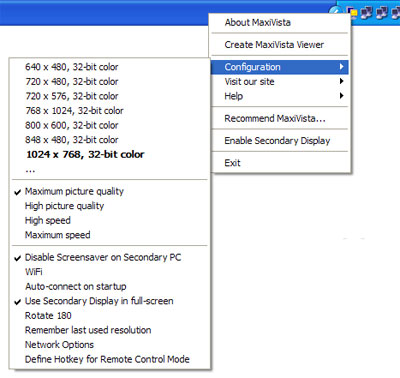 2nd: There's a "Remote Control" feature in MaxiVista 2 that gives you the ability to use the mouse+keyboard of the primary PC on the secondary PC(s). This feature does not extend your primary display with the secondary display. But you can control the mouse+keyboard of the secondary PC(s) with the primary mouse+keyboard. Hmm…complicated? It isn't. With MaxiVista 2 you get the functionality of Multiplicity for free… it's just built in. And it's better than Multiplicity.

One big problem of Multiplicity was that the mouse acceleration was different for every machine… I never managed to get the same mouse behavior on every machine…but with MaxiVista 2 – no problem. Its the same mouse behavior on every display as you know it from your primary machine. Again: Great!

Conclusion
If you have a desktop machine and a notebook I suggest that you buy this piece of software right now. For only about $30 you get what Stardock isn't capable to supply for $70 (Multiplicity). A great tool that will not only extend your desktop – it'll also extend your productivity. That's exactly what it did for me.

P.S.: I am working on a 5 display test of MaxiVista 2…

Source: http://www.maxivista.com
Source: http://www.bartelsmedia.com