I was at TechEd Europe 2004 – and there was a site called "TechEdBloggers.net". My colleague and friend Andreas Heil and myself blogged the whole event. And we even had some of the top-positions in the TechEdBloggers Ranking.
So I thought: Hey, this years is going to be great: Back in the Ranking: Schrankmonster!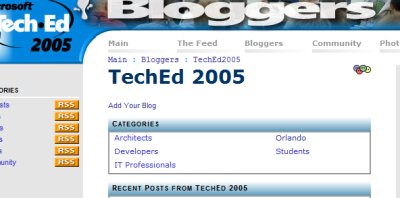 But when I look at the site there's just nothing but the TechEd 2005 Orlando. It's just impossible to register my blog to tell the world that I am blogging about TechEd Europe 2005. What's going on there? I've even wrote them an eMail to fix that, but nothing happened so far. Damn!
Source: http://www.techedbloggers.net