So there was the second Keynote "The Future of Software" held by the Senior Vice President, Chief Technical Officer for Business Platform of Microsoft David Vaskevitch.
As it was a great keynote it was also a inspiring keynote. I mean: the bottom line of the keynote was: It'll all be automated. It'll all be connected and wired together.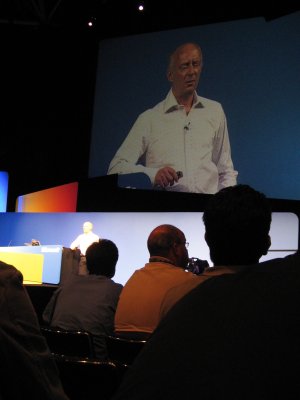 Well that's a great vision. In the first place. Until there came the example: A big company has about 17.000 Employees working in support. And when the vision becomes reality those 17.000 employees won't be have a job anymore. Anyway: From the shareholders standpoint this is great. But what about the social duties a big company that employs 17.000 people has? Okay, I really missed that point in the keynote. But nevertheless the future will be bright and shiny…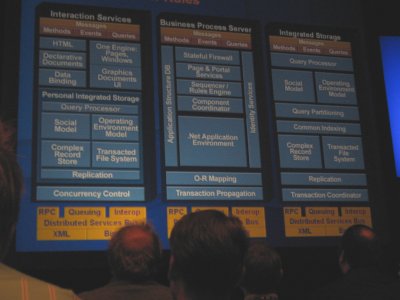 Oh and there was news on WinFS. Well actually it wasn't news as David Vaskevitch stated it'll be not shipped within Longhorn. Although there's a release and shipping plan.
The graphic you can see in the picture above shows the vision the keynote wanted to transport. Try to read it several times… as I did B-)