Now there it is. An overview of what editions the upcoming Visual Studio 2005 will consist of. Because the Team System is the most interesting part I've included the most information about that:
Visual Studio 2005 Team Suite

Productive, integrated, and extensible software lifecycle management tools — A bundle of Visual Studio Team Architect Edition, Visual Studio Team Developer Edition, and Visual Studio Team Test Edition.

Integrated Web services modeling tools that will enable you to design for operations
Code quality and performance tools for building mission-critical applications
Load testing tools for helping meet the rigorous performance demands of enterprise-class applications
Visual Studio 2005 Team Edition for Software Architects

Integrated application design tools for service-oriented development — Visual designers that enable architects, operations managers, and developers to design service-oriented solutions that can be validated against their operational environments.

Web services application design tools for visualizing service-oriented architectures
Logical infrastructure design tools for visualizing network infrastructure
Deployment design tools that validate that applications will work in the prescribed network infrastructure
Visual Studio 2005 Team Edition for Software Developers

Code quality and performance tools — Advanced development tools that enable teams to build reliable, mission-critical services and applications.

Integrated unit test and code coverage tools for ensuring the quality of applications
Code profiling tools for ensuring the best possible performance of applications
Static code analyzers to diagnose critical security and performance errors before they creep into production
Visual Studio 2005 Team Edition for Software Testers

Integrated load testing tools for Web applications and services — Advanced load testing tools that enable teams to verify the performance of applications prior to deployment.

Web test authoring tools for quickly authoring load test scripts
Load testing tools for authoring and executing distributed load tests
Integrated tools for sharing load test results with other members of the team
Visual Studio 2005 Team Test Load Agent

Supplemental test load for use with Visual Studio Team Edition for Software Testers that enables organizations to simulate more users and more accurately test the performance of the Web applications and servers.

Purchase one license per processor used to generate load on a Web farm
Simulate approximately 1,000 users per processor
Visual Studio 2005 Team Foundation Server

Team collaboration server for ensuring more efficient team communication — An extensible team collaboration server that enables all members of the extended IT team to effortlessly manage and track the progress and health of projects. Users that access Team Foundation Server require a client access license (CAL).

Enterprise-grade source code control and asset management
Integrated work item tracking and reporting to track and view project health
Integrated process methodology for more efficient and predictable software development
And there it is: the estimated US-pricing.

for the Team System: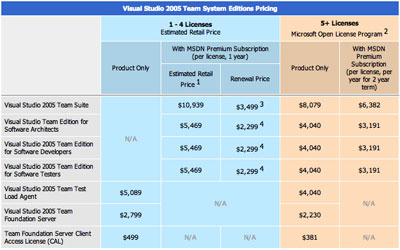 for the Pro versions: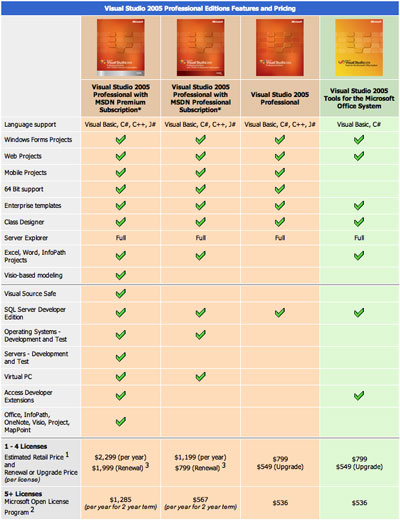 for the Standard version:



Estimated Retail Price: $299 US
Upgrade Price: $199 US
for the Express versions:



Free.

If you would like you can grab the german PDF Flyers here:
MSDN_Transition.pdf (136,05 KB)
All pricings without guarantee. It's just estimated pricing.
Source: Visual Studio 2005 Express and Standard
Source: Visual Studio 2005 Pro Editions
Source: Visual Studio 2005 Team System