After some internal discussions a small delegation of VJs, some DJs, some computer hardcore nerds, some wireless experts, some Microsoft fanatics and some UNIX geeks will be sent to this years What The Hack conference/event…but what's it anyway?
"What The Hack is an outdoor hacker conference/event taking place on a large event-campground in the south of The Netherlands from 28 until 31 July 2005."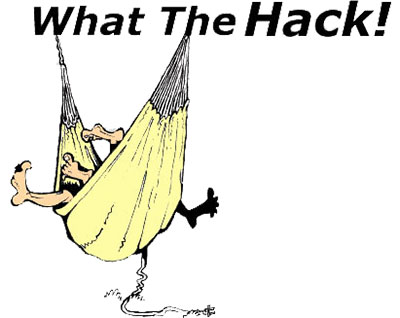 I just organized a Mercedes Sprinter transporter and VW Passat to get all our stuff to the Netherlands and back. It's planned to start early on the 28th of July.
We won't come empty-handed! This is what we'll probably bring:
Tables, banks, chairs
video projector and screen
probably lots of computers
networking equipment

probably one Cisco Catalyst 3500 (no, not for any Cisco-throwing contest!)
a Linksys WRT54G OpenWRT-enabled

some Sony DV-cameras
some microphones
a 12V-powered cooling box
a Cafetiere (to make espresso)
hopefully enough DECT-phones
at least a small PA (home hifi?)
a good attitude, (german) humor etc. ;)
Of course you can expect a number of articles on this website straight from the conference.
Anyway. If you want to contact or meet me at the What The Hack just write a comment or an eMail or use one of the DECT phone numbers at the conference:
"You can reach some of the FeM-team by calling our toll-free service number: FEM1 (3361) through FEM5 (3365). A DECT-phone is required (on your side), though."
Or you just come to the FeM Village where I can be found when I am not in any talk.
Source: http://www.whatthehack.org
Source: our wiki

Source: FeM Village