So there it is: It was finally decided that the existing storage should be extended. And after some discussions it came clear that it would be an iSCSI solution. It was also clear that 1.3 Terabyte would not be enough if we would not extend the storage again in a few months.
So we went out to gather some offers. There was EMC² and LSI and Promise and Easyraid…
But after two very disappointing offers from EMC² we came to the conclusion to give Promise a shot. Promise lately announced their brand new SATA 3Gb/s appliances and that's what we are going to order tomorrow: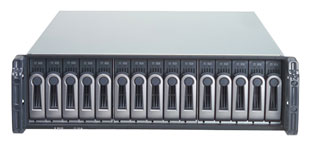 Looks neat, doesn't it? And we will fill it with 15×250 Gigabyte HDs which would make a capacity of 3750 Gigabytes… Of course that's not the capacity that would be available finally. But it's surely fun to play with such storage spaces … even more it'll be fun to play with iSCSI. This will be the first appliance with iSCSI for me and I am looking forward how good or bad this rather new technology would be.
So folks. More information on this when the "gadget" arrives.
Source: Promise VTrak M500i