Everyone should have heard about the official name of the upcoming Windows version: Windows Vista. And if you're a frequent reader of this website you probably know about Stardock – a company which makes some really cool applications to ensure my personal productivity. But this article is not about the old apps it's about the new ones.
And there are some really interesting apps coming up the next weeks especially for the Windows Vista Beta 1 which is going to be released on the first days of august.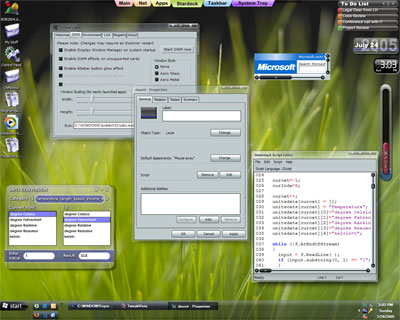 "Windows Vista may be the most extensible version of Windows yet. With its rich new set of APIs that allow users to create unique applications quickly and that the interface has been moved away from GDI (the old drawing method) to a whole presentation system that makes use of 3D hardware acceleration, developers will be able to make Longhorn shine very so brightly.
Stardock's goal on Windows Vista will be much the same as it was on Windows XP — to enhance and expand the feature set of the OS. The difference this time is that Microsoft is giving us a lot more tools to play with."
"In Windows Vista, our goal will be have DesktopX generate XAML code and hence, on a Avalon-enabled system to make use of everything Avalon has to offer."
"We hope to make DesktopX one of the premiere Avalon/XAML authoring environments."
"We are also working in conjunction with TweakXP on a program called TweakVista. TweakVista will let Windows Vista users tweak the heck out of their new OS."
So as you can see: Really cool things are going on for us desktop modding fans. And I am sure that some eyecandy always is good. My opinion is that eyecandy often raises the productivity more than you would expect…just try it.
Source: Stardock & Windows Vista

Source: TweakVista