So this is part 2 of my little "how to transform a Windows Server 2003 Web Edition into a Windows Server 2003 Standard Edition if you only have Remote Desktop and limited "physical" keyboard access to the machine…
Since some hard-drive imaging experiments did not work today I decided to try the straight-forward way. Mounting the CD and installing…
I came across several problems and had to find a workaround or them. The first problem showed up: Since we would like to have Remote Desktop Access after the installation finished successfully installing a Windows Server 2003 Standard Edition WITH Servicepack 1 is not an option. One of the new features of Servicepack 1 is that after a clean Install you cannot access the machine from the network anyhow – You have to update the machine and then this "feature" disables itself.
So it is important that you have a non-SP1 Windows Server 2003 Standard Edition Install-CD…
Another problem occurs now if your currently running Windows 2003 Web Edition has Servicepack 1 installed already…
If you start the setup something like this will show up: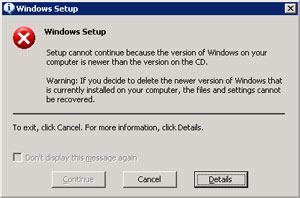 "Setup cannot continue because the version…"

So we'll have to trick a little bit to fake a pre-SP1 environment for the setup: When you start the setup the "winnt32.exe" is launched which loads the "\Windows\AppPatch\sysmain.sdb" file and reads the version number that is stored there.
The trick is to replace the running systems "sysmain.sdb" with the one from the setup CD. (don't get confused that the path is "C:\noSP1\" – just replace that with your CD-Drive name).
Anyway…just do this: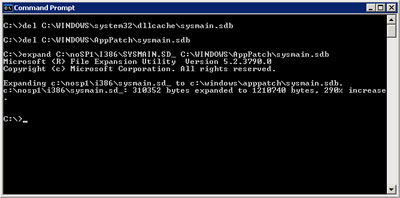 One note to the things above: the file is deleted from the dllcache first to trick the Automatic System File Protection…
Once you have completed this you can start the setup and it'll run as desired. Ensure that you select the following advanced options: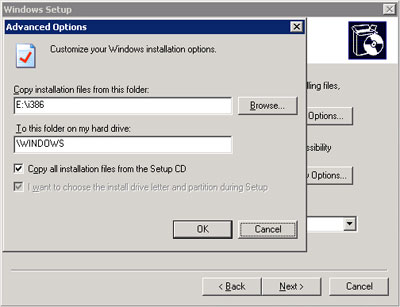 "Copy all installation files from the Setup CD"

Now start the setup, fill in the product key and wait until the machine reboots.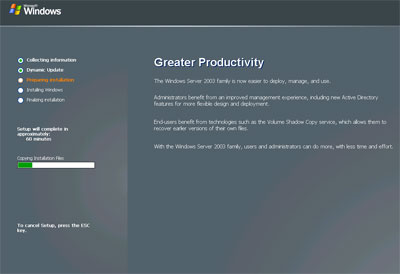 If you had KVM access you'll see this after the reboot: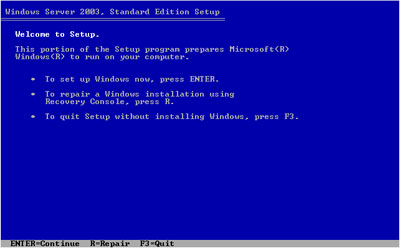 Now it's going to be fun! My ISP allows me to send keyboard commands to the machine… so this are the commands you'll have to send (blind!) to finish the installation:
Enter (Welcome to Setup)
Escape (don't repair)
Enter (Install)
C (Continue Setup)
L (Delete Windows folder)
After about 25 minutes and a reboot
Enter (Regional Configuration Dialog)
Username (Username)
Enter (Username>
Enter (Licensing Modes 5 concurrent connections)
Tabulator (passwords…)
password (your actual password…I recommend to leave it "password" or any other simple thing…
Tabulator (retype the password)
password
Enter(confirm the passwords)
Tabulator(that's the password warning "Password to simple" if you're absolutely sure this won't come up…skip this and the next one)
Enter (password warning)
Enter (Timezone settings)
Enter (Typical Network Settings)
Enter (Workgroup name)
After about 30 minutes the machine reboots
After the machine rebooted it should be pingable…if so you should enable Remote Desktop Access remotely:
Step 1: start "regedit" on your local machine
Step 2: connect to the IP of your machine and login with username+password
Step 3: Change HKLM\System\CurrentControlSet\Control\Terminal Server\fDenyTSConnections from 1 to 0
Step 4: connect with your Terminal Service Client.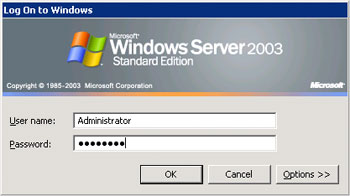 Now you should have this…

And that's it as simply as it could be B-). One way to get Windows Server 2003 Standard Edition on a Windows Server 2003 Web Edition machine…