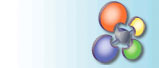 Today the first test version of WinFS – the new and said to be revolutionary filesystem – was released by Microsoft.
"The beta version released on Monday works with Windows XP. Both Home and Professional editions are officially supported. It should also work on Tablet PC and Media Center editions of the OS, but Microsoft has done limited testing of WinFS with those flavors."
So! If you have a MSDN Subscription… go and get it!!
Source: Cnet News