I really quarreled with me if I should post this article. But I do it because of the great music. One more word about my thoughts: I only want to have such real-life content on this website that regards me and my adjacency. Since this website is about technology and interesting things I don't want to deal with daily news – and catastrophes are such news I don't want to deal with on this website.
But now go and buy this album. It's really great – and that's not only because it's completely made by Musicians who are also Microsoft Employees.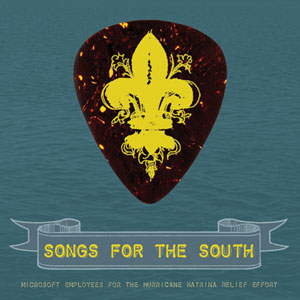 "This album has been made possible by the generous donation of music from 16 artists. These 16 artists (or contributing artists) are employees of Microsoft, and will receive no compensation from the sale of this album.
In soliciting content for this compilation, there were submitted many times the number of tracks than could fit on the CD. While the artists and tracks below represent the public face of this generosity, the willingness of the music community at Microsoft to contribute was immediate and significant. Thanks go to all who submitted tracks – both those on this album, and those not."
Source: http://www.songsforthesouth.com/