"Cool a new iTunes version!" I thought and downloaded it…but after the system restart and the first start-up of the new iTunes this came up: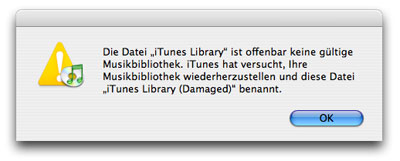 "this iTunes library is damaged…."

And guess what: all my podcast subscriptions are gone. Damn! What the hell do you think you're doing Apple?!
The "Update-Mania" on the Macs I am using is quite impressive: After a fresh Panther Installation you are forced to download more than 400 Megabyte of Updates…and at the moment around 200 Megabyte of Updates for a fresh installed Tiger…
Who is complaining about the 180 Megabytes of Windows XP!?!