You have a website and you feel depressed because nobody comments your stupid articles? You want at least a little bit of appreciation? The thing that could brighten up you're world is: Netbubbles.
This little gadget "monitors" your website: Everytime a user hits your page, everytime someone "buys" or does anything valuable on your website the Netbubble will fire some it's special-effect-bubbles or even some light effects.
It's a visual feedback for "the webmaster that cares" (sorry Falko, I had to take it).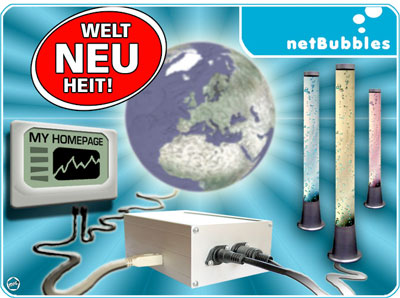 dear Netbubbles Company: I WANT ONE! ;) I could test it… send me one!!!!1 (I don't get enough appreciation (e.g. number of comments!))
Source: http://www.netbubbles.de