Since the JASJAR / MDA pro has a gorgeous 640×480 display there are some tools – originally designed for Windows Mobile 2003 SE to allow you to use the high dpi display with all it's capabilities.
The normal case is that Windows Mobile scales everything up when it detects a higher resolution than 320×240 (QVGA). Since that means that all text on the screen looks really good but takes the same space like it would on a QVGA.
And there comes ozVGA. It's a small tool that helps you to configure the systems dpi settings to better match the display. That does not necessarily lead to a better readable display but you'll have much more space on the display since it's used in it's "unfiltered unoptimized raw dpi"-beauty.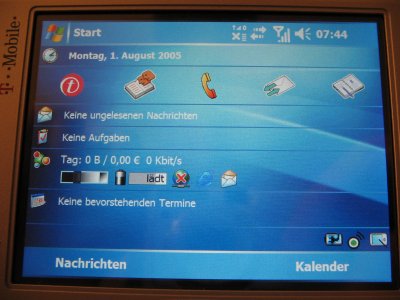 before ozVGA

after ozVGA.
There are some bugs to this moment: the status bar at the top is not displayed correctly. Some of the applications cannot cope the high dpi (such as the calendar…) – But I hope that future updates of ozVGA will solve that.
Source: http://oz.sciox.org/