Bytonic ported the good old Quake 2 to Java – just like Vertigo Software did a couple of years ago by porting Quake 2 to .NET.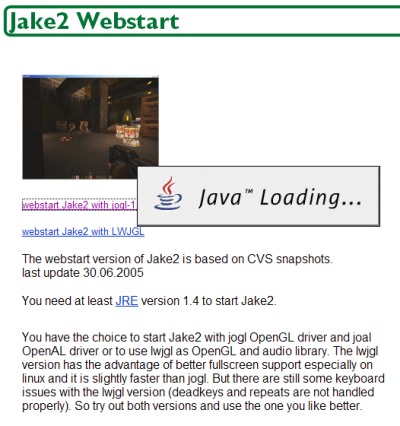 The port is called "Jake2" and runs straight via Java Webstart – if you do not have the necessary data files the Jake2 downloads the demo data files directly off the web for you.
I tried it – it sort of worked – well it displayed 3D graphics – but it was unplayable due to massive frame droppings. I don't know why it does not work since I am not into Java that much. The environment I tested in looked like this:
C:\java -version
java version "1.5.0_04"
Java(TM) 2 Runtime Environment, Standard Edition (build 1.5.0_04-b05)
Java HotSpot(TM) Client VM (build 1.5.0_04-b05, mixed mode)
What do I need to play it smoothly?!
Source 1: http://www.bytonic.de/html/jake2_webstart.html
Source 2: http://www.vertigosoftware.com/Quake2.htm