The linux guys are making progress in porting Linux to the current HTC devices. Apparently they mark their current version of linux for the Blueangel as "not ready for the user" – but it runs and it does make progress.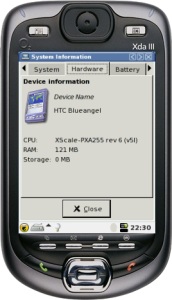 My experience with linux on such PocketPC / Windows Mobile devices is that you can do all the neat things you can do with your linux pc – when enough space is available – but you can't do all the neat things you normally do with such a devices like managing appointments, send/receive SMS, place calls… and so on.
At the moment you simply render your device into a brick with linux on it – but time will tell if and when that will change.
Source: http://www.handhelds.org/moin/moin.cgi/BlueAngel